Tips to create better renderings with YafaRay
As an architectural visualization artist and also a teacher, I know how important the workflow required to achieve realistic images can be for architects. Every time I have the opportunity to talk with other architects, they always ask me for templates or presets to speed up the creation of good renderings in Blender. That is one of the reasons they like SketchUp or Podium so much, it is because of the presets. I also know how important it is to be able to change settings in order to improve a scene or reduce rendering time.
Last week I found an interesting article containing tips and listing good practices about rendering with YafaRay. The author lists some of the YafaRay settings that can make the difference in render quality and speed.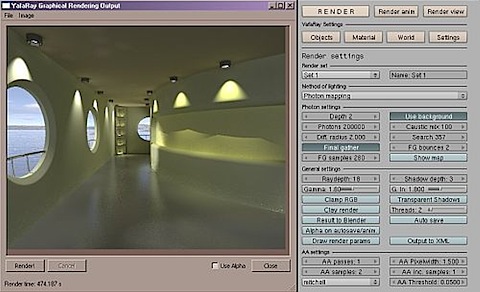 For architectural visualization artists, the tips will cover the AA settings that can be confusing for new users and Photon Mapping for interior design visualization. Since, Photon Mapping can be tricky to setup, it is always nice to have a good set of tips to improve light quality.
If you still don't know much about how YafaRay settings work, try to fine tune your scenes using some of the tips from the article!