Realtime Caustics with Blender and UE4
When rendering scenes for architecture that features a swimming pool for any other large water surface, you might have to deal with a cool effect resulting from the interaction of light and moving water. The caustics effect happens when you have light passing through water, which can contribute a lot with the overall realism of your render.
Have you ever tried to create caustics effects in realtime? If you are using the Unreal Engine to render architecture, you should take a close look at this post from digital artist Patrick Dyer. He shared a detailed set up with all the required blueprints to make realtime caustics for in an interior scene.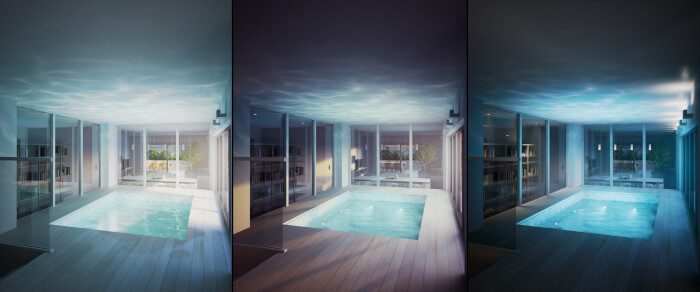 The artist even shows variations to the light mood with options for day and night. You can check all settings used to create the scene and also positions of light sources and probes.
If you don't remember, it is the same artist that appeared in a project profile here in Blender 3D Architect a couple of weeks ago. His company uses Blender as a modeler to make architectural visualization and render their scenes with the Unreal Engine. You can read the profile to know more about his workflow with Blender.