Anti-Seam Add-on for textures in Blender (Free)
When you have to get material for a project related to architecture, an easy way to find high-quality textures is using an online library. Nowadays, you see multiple options to download PBR textures for free, with resolutions going up to 8K. Most of those textures feature seamless images that you can tile to cover large areas. Since they are seamless, a tiling won't leave visible borders, which is excellent.
What if you need a texture for a surface that is not available in any of those libraries? In that case, you will have to edit the image to make it seamless.
If you still find yourself editing and trying to adjust textures that are not seamless regularly, a recently released Add-on might help. The Anti-seam tool is an Add-on that can automatically remove visible borders from any image and help you get that perfect photo or image ready for rendering in Blender.
The tool is simple and consists mostly of a Node that can do most of the work.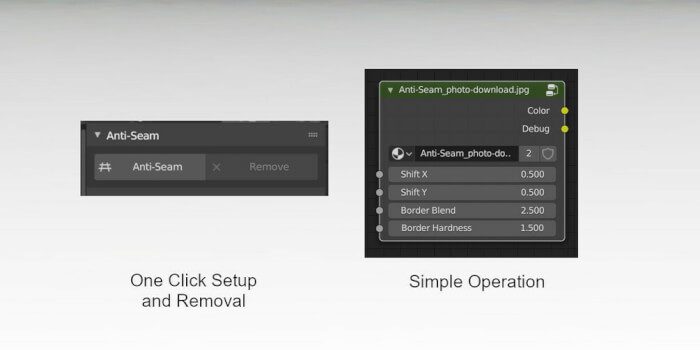 Among the features you find:
Fully Deterministic (No procedural textures).
One-click deployment
Instantly ready to bake.
Works with any UV size.
Triple-layered Blend masks.
Simple Setup and Control.
Debug mode
That is an excellent solution for projects demanding custom textures not available at online libraries as PBR materials.
To download the Add-on, you have to visit this page in Gumroad, where the author asks for a "fair price" as the download cost. If you use zero as the value, it will trigger a free download. However, it would be nice to reward the author if you plan to use the Add-on in commercial projects.
Using Blender for architecture
Do you want to use Blender for architecture or render your projects using Cycles or Eevee? We have three books available that could help you!
They cover the use of Blender for producing architectural content and also all information you need to render projects in real-time:
You can get them in both digital and paperback formats. By ordering those books, you will not only improve your skills with Blender for architecture but also support Blender 3D Architect.