The Long House project with Blender Cycles (Profile)
The project profile series of Blender 3D Architect is a collection of articles aiming for feature projects related to architectural visualization. We invite talented artists to share additional details about each project to demonstrate how they approach each stage. And also allow each author to publicize their work among our readers.
How does it work? It is like an interview, where we sent a couple of questions about a project for the artist.
If you want to check previous project profiles, visit this link.
Today we have a project named The Long House from architect Evgenios Zozulya, which used Blender Cycles to create both interiors and exteriors from this residential project.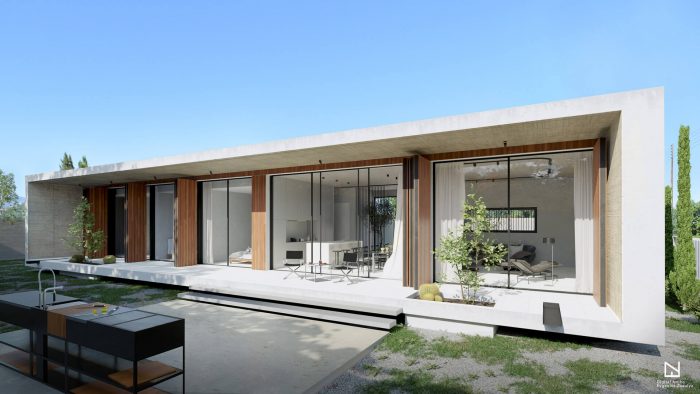 (Click to enlarge)
What is unique about this project? It shows great skills from the artist in managing a full modeling conversion, which happens from a model coming from Rhino. For those unfamiliar with Rhino, it is a powerful NURBS modeler popular among designers to create product design and also architectural models. Besides working with a model conversion, he also describes the process of searching and inserting furniture models and assets to the model.
Let me thank Evgenios Zozulya for sharing the details about the project with Blender 3D Architect readers.
---
Was it a commercial project? What can you tell us about the motivation for this project?
This project was commissioned by Mip Architecture, which is a small architectural firm located in Nicosia, Cyprus. The project in the artwork will be built in the village of Alambra, which is not far from the capital of the island.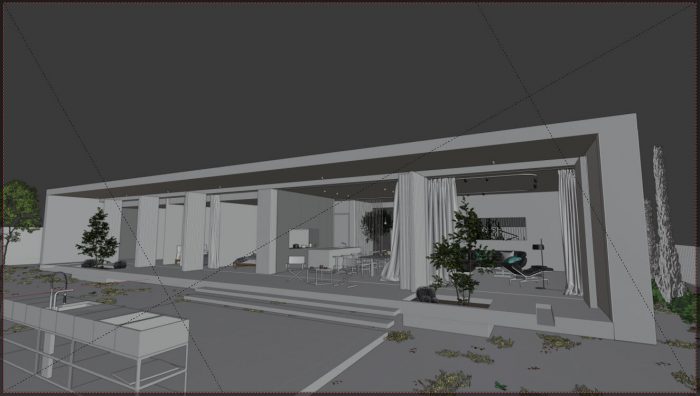 (Click to enlarge)
Did you use any references for modeling, like technical drawings?
The architect provided me with a Rhino 5 file, which I had to modify quite extensively for use in Blender. The DAE Tools plugin proved to be a real time saver when it came to eliminating triangles and creating clean meshes.
Did you model everything in the project, including furniture and props?
As already mentioned, I was provided the original model of the residence, but as far as props are concerned, I used a lot of items from Chocofur site. Mainly items such as teapots, coffee cups, books, and other "clutter." The furniture was a different story. The client was very specific in what he wanted, so I had to scour the internet for specific models. Some of the items such as the couches, dining table, and the coffee table I found on the manufacturer's site in obj. form. The rest had to be modeled form reference.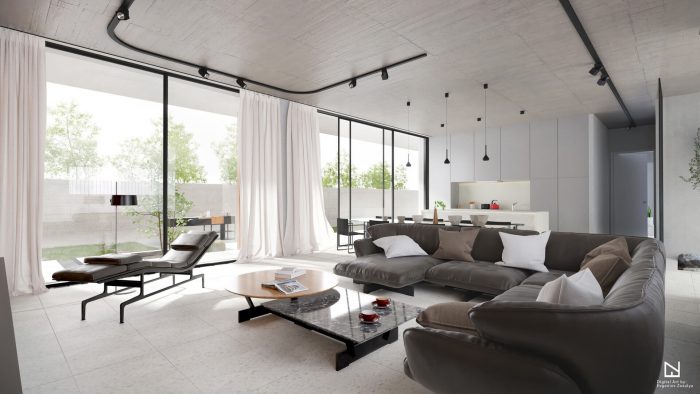 (Click to enlarge)
What can you tell us about the interior design (Layouts, materials, and props)? Did you have to create it yourself?
The interior design went through a few iterations during the visualizing process, and the main layout was dictated by the architect. The materiality of the space went through a few iterations as well as we started with a darker, stricter approach, gradually leaning towards a lighter mood. As I mentioned before, all of the "clutter" props used are from Chocofur as well as a few materials. The most challenging material proved to be the concrete with plank imprint. It took us quite some time to get the look right.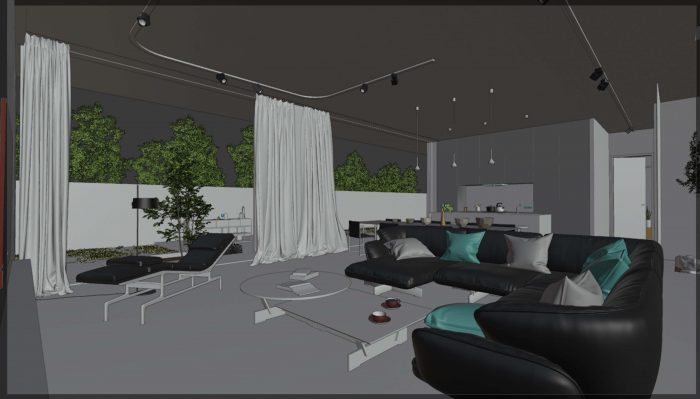 (Click to enlarge)
Do you use the same model for the interior and exterior renders?
Yes, the model used for exterior and interior renders is the same with a few tweaks, of course, to optimize the render times.
How long did it take from start to finish?
For the production of the exterior shot, it took about a week of work, excluding the modeling phase. So one week exclusively on arranging the composition, adjusting the furniture, the textures, making changes, rendering and post-processing. The same applies to the interior shot.
What hardware did you use to render? Can you share some render times?
My hardware is very modest, actually. It consists of AMD Ryzen 7 1700 at 3.00GHz, 16GB of RAM, and a GTX 1060 6GB. The exterior scene took 6h to render on 1500 samples with native Cycles. The AI Denoiser is a real game-changer, in my opinion allowing me to produce quality images with otherwise very low sample counts. The interior shot was a different beast. It took 15h to render on 1500 samples and demanded a lot of post-processing.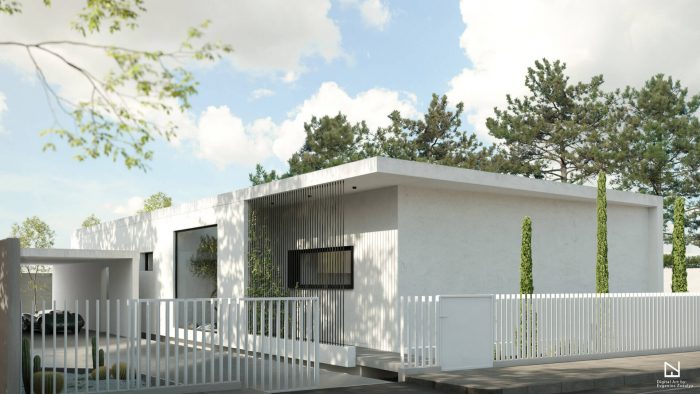 (Click to enlarge)
Can you share any details about the lighting process?
The lighting is a simple HDRI from HDRI Haven. I didn't want to use any additional light sources to cut down on rendering times. Thus my lighting setup is a very Spartan one.
Did you use any Add-ons or external tools to create the project?
My most used add-ons are The Grove 8 for the trees, Scatter for the grass and leaves, and DAE Tools for cleaning imported geometries.
In retrospect, it was quite an interesting project as it helped me learn a lot about both Blender as a design software and Photoshop as a post-processing solution. Up until this point, I thought that I had to produce the perfect image in Cycles. I realize now that the workflow becomes much more flexible and enjoyable when I focus on getting as close to the result as I can and then fine-tune it in post. In Post-Process, you get the benefit of "happy accidents" and new possibilities that you didn't think of before.
I would like to urge all of you creative people to focus on your particular view and make it as unique and as personal as you can. Sure it's hard when you have to work for clients, but don't dilute it to make it more compatible with the masses. Keep true to yourself and keep producing art!
---
Thanks again to Evgenios Zozulya for sharing details about their work. You can check more projects from him at ArtStation or his personal website.