Interactive real-time render for architecture in Blender 2.50
The SmallLuxGPU is an experiment to use GPU power to render in real-time using OpenCL and LuxRender. This is an amazing option to work with advanced rendering techniques in Blender, using GPU power to reduce the time to have a clean and noise free image in LuxRender. This week David Bucciarelli author of the project, just posted a new demo of SmallLuxGPU 1.6 showing some of the amazing features, like the rendering of scenes and objects with advanced materials like transparency and caustics. But, for those of you that still haven't saw SmallLuxGPU in action, I strongly recommend you to watch the demo until the end.
SmallLuxGPU v1.6 (OpenCL) from David Bucciarelli on Vimeo.
What is so important?
At the end of the video we can see a great demo of the integration between Blender 2.50 and SmallLuxGPU, where the author uses Blender to control in real time the position of an object at the scene, and SmallLuxGPU on the side render the scene in real-time! And the best thing is that we can see a full integrated panel of control for the renderer at the Blender 2.50 interface.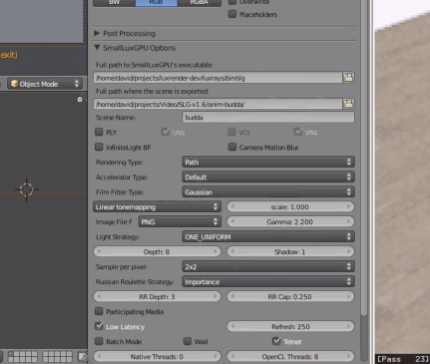 If you want to know more about SmallLuxGPU, visit their web site and learn more about the project and how to download the renderer.
Did I mention that booth tools are totally free to use?