New tutorial about studio lighting for YafaRay in Blender 3D
One of the most common environments to present 3d models is the so called studio setup, where we can find a 3d scene specially prepared like a real photography studio. The advantage of this type of scene is that it is a way to show a 3d model in an abstract environment, just to present the overall look of the model. A scene like a studio setup is quite simple to create and is composed by an infinite background, and a couple of area lights places on the sides of the scene. Depending on the renderer, the lights might change to planes that emit light energy instead of light objects.
I always have a studio setup scene ready to show models created in Blender 3D, to render them in either YafaRay or LuxRender. If you are a regular reader of the blog, you might have seen one of those scenes used to present a furniture tutorial showed here in the past, like this modeling tutorial about an Arco Floor Lamp.
If you don't have any idea on how to create a studio setup scene, there is a complete and easy to follow tutorial about the creation of a scene like that using Blender 3D and YafaRay, posted last month at the YafaRay official web site.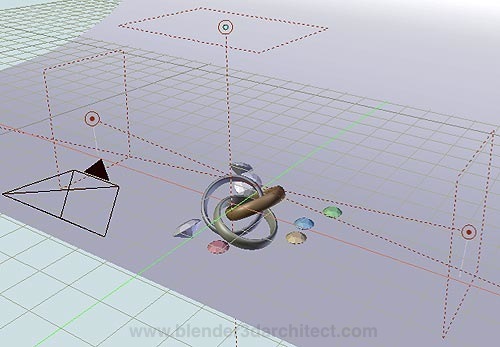 In the tutorial you will learn how to setup the lights and the infinite background of the scene, along with several other options to increase the quality and variety of the render. For instance, if the model has some reflective materials like plastics or glass, a good option to create good reflections will be an HDRI map to light up the scene and create all sorts of reflections over surfaces. At the tutorial you will learn how to add and setup an HDRI map to YafaRay.
You may be asking yourself, if an architectural visualization artist really needs to know this kind of setup? Well, remember the furniture example pointed out at the beginning of the article. From time to time, we may need to show a client or evaluate the result of a modeling project which doesn`t have the scale to be placed at a larger environment.
If you still didn`t read the tutorial, I recommend you to go there and start to create your own studio setup scene right now!