Getting started with YafaRay and Blender 3D for interior design
I still believe that we may use both YafaRay and LuxRender in our architectural visualization projects, because LuxRender can`t beat YafaRay in one tiny detail: render speed. The quality and realism of the images created with LuxRender are amazing, but they demand long render times to become clear enough to be used in commercial projects. Sometimes there is time available to wait, but what can we do if there isn't time? In this case we can use YafaRay!
A new version of YafaRay is about to be released, which is version 0.1.1 with some improvements and bug fixes. By the messages on the YafaRay forums, there are some interesting features on development for YafaRay like the support for IES Lights and Irradiance Cache.
If you haven`t used YafaRay until today, I`m going to show you in this article the basic steps to setup an interior scene with Blender 3D and YafaRay. For this tutorial I have used YafaRay 0.1.1, which can be downloaded from this link. Just as a warning, to make YafaRay 0.1.1 work you have to uninstall all previous versions of YafaRay and even remove the old YafaRay scripts from the Blender scripts folder. At the first time I didn`t remove all references to old installations and my YafaRay wasn`t working properly.
Well, the scene I`m going to use for this tutorial is quite simple and represents only a small room with two big openings.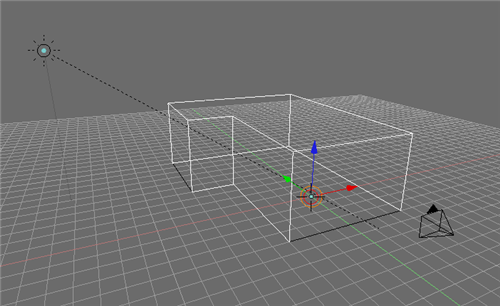 Right after the installation of YafaRay we will be able to use the export script, available at the Render folder of the scripts window. Open this script and we will see the exporter interface. It works in a very similar way than LuxBlend. We select an object to edit properties such as materials or other options.
For instance, select the Sun Lamp and click on the object tab and choose Sun as the light type.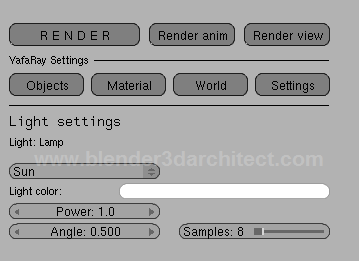 The next step is to set the background color in the world tab. Just set the color to a light blue color.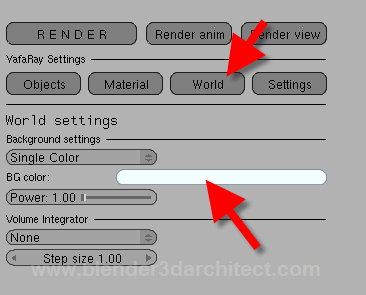 And finally we will get to the render settings. This is one of the most important parts of the YafaRay setup, because it`s here that we will actually make the render looks cleaner and realistic. The best render method for this scene is Photon Mapping, which is a good choice for all interior rendering.
Here are the other settings for the scene:
Photons: 900000
Diff. Radius: 20
FG Samples: 100
Use Background: On
AA Passes: 3
AA Samples: 12
From all those settings, you have to take care on with the total number of photons to increase the quality of the light. Another important thing is the Diff. Radius. If this value is set too low, we will have artifacts on the corners of the walls. And the FG Samples that will create a clean render with low levels of noise.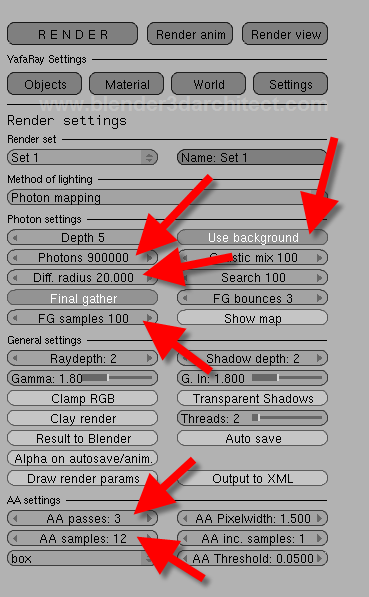 The AA settings will improve the anti-aliasing of the image.
With everything set, just hit the render button in YafaRay to get an image like the one showed below.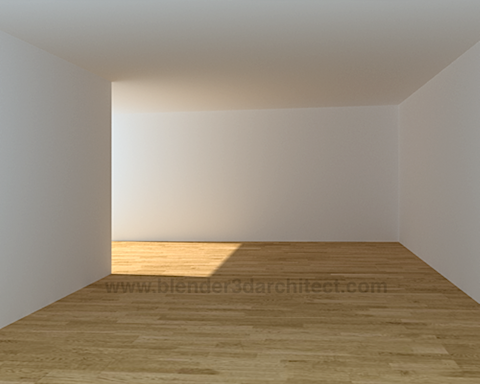 This image was rendered with only a few minutes! Now you know how to start working with YafaRay to render your projects. Expect more tutorials about it in the future.
Just a quick note about the materials, for all surfaces of the model I have use a standard diffuse material of YafaRay, but you can use any material you like.