Interactive architectural visualization with the Blender 3D Dome Projection
One of the advantages that Blender 3D offers to architectural visualization artists, is the possibility to create interactive 3d applications, to show visualization projects with no need of coding. The Blender 3D game engine is a great help in this area, because we can create two products with the same 3d model. The same model used to create hi-quality renders can be tweaked to be used in the real time application. When Blender 3D 2.49 was released, am interesting new feature aimed to game designers can be used by architectural visualization artists to create a new experience in visualization.
This feature is the real-time Dome rendering, which can be found in the release log of Blender 2.49.
Right after the release of Blender 2.49 a lot of people asked me about this feature, and how to use it in Blender. Well, if you want to know more about this feature and find out how to use it, there is a great article written by Paul Bourke on the use of Blender Games in the iDome. Almost all examples from the article are related with game design, but we can use the technique to present only the scenarios, without the character interaction.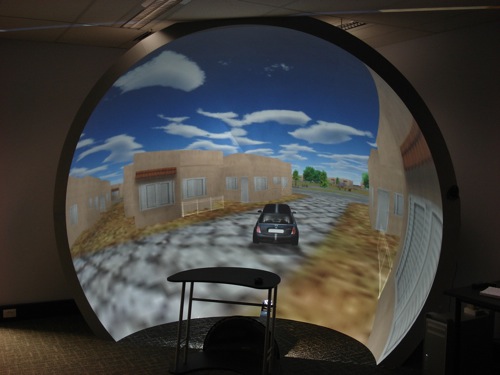 The limitation of this particular feature is that we need a surface with a hemispherical surface to project the application in order to see it fully working. But, once we have that surface, the application created with the fisheye project is complete new experience!
How this can be used for architectural visualization? Take a look on example 2 presented in the article, and you will notice that there is an interactive application developed by group of students from Brazil that used this dome projection to present Habitation visualization. One of the authors of this project is Dalai Felinto, who was the developer responsible for the implementation of the Dome Rendering in Blender 3D.
If you have plans to use Blender 3d for interactive architectural visualization, this new feature of Blender can expand the possibilities is visualization of your projects, allowing the users to have an immersive experience in the 3d environments. Now, all I need is an iDome or a small change in my office walls!
I just forgot to mention that you will find, along with the exaplanation of the Dome Rendering, the slides used by Dalai to present this feature in the Argentinean Blender Conference 2009.