Interior rendering: From Revit to Blender Eevee
How easy is it to integrate Blender with softwares that architects use to manage construction plans like Revit? If you have access to software like Revit, it is simple to send models to Blender, using an FBX file as middleware. You have to make sure the FBX is binary.
In fact, any software that can export data to FBX will work great with Blender.
That will make workflows like rendering a project from Revit in Blender incredible easy. Better yet, you can get your project from Revit and send it to Blender 2.8 and render it in Eevee.
Do you want to see an example? Here is a project from Cuban architect yandrychoy, which appeared in the BlenderArtists forums recently. It started in Revit and exported to Blender 2.8 as an FBX file.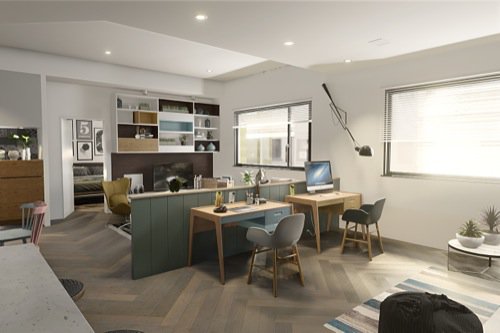 In Blender 2.8 the artist had to set up materials, textures, and lights from scratch. According to the description, it took him about six to seven days to finish everything, in his spare time.
The project is a residential interior that has a great level of detail regarding furniture, textures and overall design. You will notice some problems here and there, especially in shadows. But, you have to consider that Eevee is still under development and not even in beta yet.
How long did it take to render a scene like this one?
Twenty seconds. Yes, you didn't read that wrong. Just 20 seconds.
Something that all scenes using Eevee shares is a fair amount of different camera angles. When you render a project in Cycles and have to wait for about 1-2 hours to get an image finished, you eventually will restrain yourself from getting more than three camera angles.
But, using Eevee and having an image ready in 20 seconds will allow you to create multiple camera angles.
At the moment, you will encounter seventeen camera angles for this project. To view them all, you have to visit the thread at the BlenderArtists forums.
Is the artist using a top of the line GPU? The GPU used for this project is a GTX 1050Ti, which is an "entry" model from NVIDIA.
For those artists that don't want to create architectural models in Blender, using a tool as Revit might help you to save some time between construction planning and presentation.
If you want to learn more about Eevee for architecture, you can't miss those other articles:
Disclaimer: Some of the links above might be affiliate links, meaning, at no cost to you, we earn a commission if you click through and make a purchase. If you decide to purchase using our links, you will be helping us with the maintenance of Blender 3D Architect. Thank you for your support!