Kitchen modeling from a photo using fSpy
An architectural visualization project usually starts from a reference or idea that could be a technical drawing or a photo. You will either get those reference data from a client that needs the visualization as a marketing piece to sell his idea, or you might want to test your skills and recreate an existing project based on a photo.
No matter the case, a reference to guide you through the process will be a great help. If you plan to work with a reference photo, which you will even try to mimic the same camera angle you should try the incredible fSpy tool with Blender. It is an open-source tool that helps to align a virtual camera based on an existing photo.
An artist called Warcos posted at the Blenderartists forums an impressive project that uses fSpy and Blender, to create the interior visualization of a kitchen.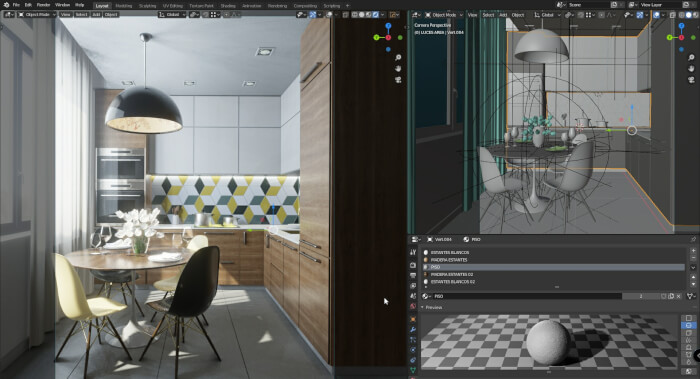 The artist doesn't explain the process in details but instead of a full description of the project, we get an incredible sequence of screenshots. You will find more than 15 screenshots of the project development, some of them with settings.
It starts with the fSpy tool to align a reference photo to the project and go up to the rendering with Eevee. If you didn't know about the fSpy tool for architectural visualization, you should take a close look at that project. It is also a great step-by-step overview of how to render an interior scene with Eevee.
Using Blender for architecture
Do you want to use Blender for architecture or render your projects using Cycles or Eevee? We have three books available that could help you!
They cover the use of Blender for producing architectural content and also all information you need to render projects in real-time:
You can get them in both digital and paperback formats. By ordering those books, you will not only improve your skills with Blender for architecture but also support Blender 3D Architect.