Blender 2.79 new features: Denoising!
From all the upcoming features of Blender 2.79, we can quickly point filmic as one of the most impressive on the list. But, coming in second place, the new denoising feature is close!
What is denoising and how it can help you?
Artists using Blender for architectural visualization knows that Cycles will start your renders with a noisy image, and with time it will progressively removing the noise. Depending on your settings, hardware, and materials you may have to wait a few minutes or hours to get a usable image.
You will limit the amount of interactions Cycles uses to refine the image with samples. Once Cycles reaches the target sample number you will set, your render stops. Choosing the ideal number of samples for a scene is sometimes tricky, and each project requires an ideal value.
An average value of 1500-2000 will most likely result in a usable image.
What if I told you that with the denoising feature you could cut that in half? Maybe, even more, depending on the scene.
The denoising will process your image to reduce noise dramatically. But, there is a caveat! Using too much denoising will result in a blurred image.
Here is an example in a scene we are working on now. A render with only 300 samples will give a significant amount of noise. But, just turning on denoising with default values will apply some "magic"! No more noise with just 300 samples!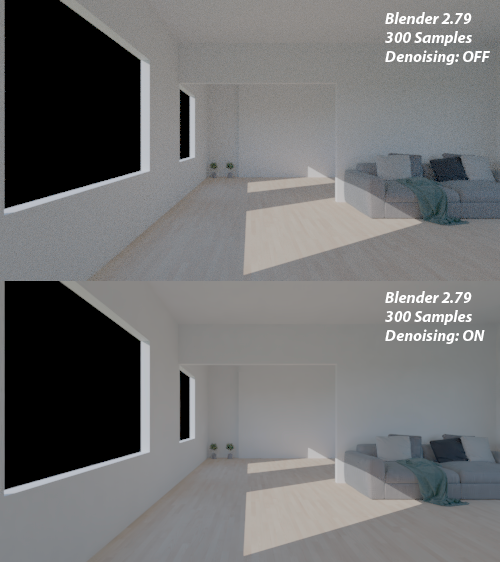 Render times are almost the same. Impressive isn't it?
Where is the denoising? You will find the tool in the scene panel.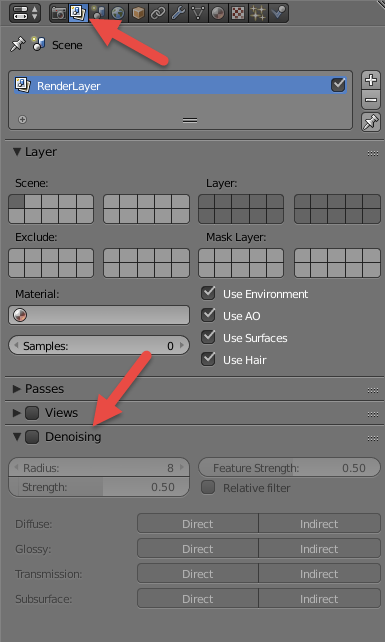 Along with "filmic," we can quickly point those two new features as the most disruptive tools for anyone working with architectural visualization in Blender. They will change, in a good way, all your workflow.
Did you miss any of our previous articles about some of the new features from Blender? Here are all of them: