Orchad House – Exterior rendering with Blender Cycles (Profile)
From all the projects that we usually feature here in Blender 3D Architect, the vast majority shows interior visualizations of residences. That is by far one of the most common types of projects. Not only because it is a popular request from architects and designers, but also for the short timeframe required to complete such an image from start to finish.
Today we have an external visualization project from digital artist Paweł Pęcherzewski that shows a remarkable talent for interiors and also exteriors for architecture. He shared the images from a residential exterior called Orchad House, showing a typical suburban residence.
The project has great overall lighting and simple, yet effective environment.
As a way to get a few more details about the design process of this particular project, we reached out to the artist and asked him a couple of questions about the project. Here is the quick interview with Paweł Pęcherzewski about the Orchad House project:
Was it a commercial project? What can you tell us about the motivation for this project?

Yes, it was a commercial project.

Did you use any references for modeling, like technical drawings?

I got a low poly model from my client and I had to make it look more realistic.

How long did it take from start to finish?

It took about 15 hours to complete including rendering.

What hardware did you use to render? Can you share some render times?

I have a single GTX 1070 and rendering took about 2 hours per frame with 1000 samples.

Can you share any details about the lighting process?

Lighting is just an HDRI but I've been using Corona Image Editor and Photoshop for post-processing. I think it's much more flexible than Blender's compositor and gives overall better results. I also split the scene into 2 main parts (house and nearby trees and background hills). I also didn't want to mess with the mist pass so atmospheric haze is an actual shader (volume scatter + blueish volume absorption) and the scene is pretty big because of that since everything had to have a real-life scale in order for it to work.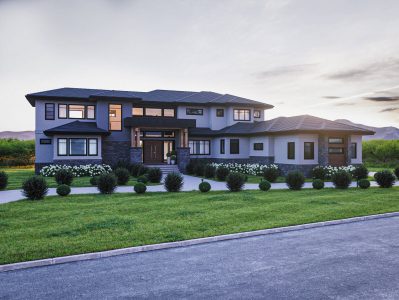 (Click to enlarge)
Let me say thank you to Paweł Pęcherzewski for sharing such valuable information about his workflow and this particular project. You can get in touch with the artist using his profiles at ArtStation or Behance:
We already featured some other projects from Paweł in the past, here are a couple of them: