Miss Loan Villa: Interior rendering with the Blackbody Node
A typical setup for interiors with Blender Cycles to create realistic renders consists of adding an HDR map to the background of your scene. It will create a backplate for the render and also contribute to the lighting of your scene. Depending on your HDR map it could even work as a Sun Light to create hard-edged shadows.
However, you will find several exceptions for this "rule" and several artists will prefer to use a white background instead of an HDR map.
A great example of that is a project from artist Khánh Nguyễn that has the name of Miss Loan Villa. The render shows the interior of a kitchen for a residence. The render looks great and shows some beautiful shots with a shallow depth of field.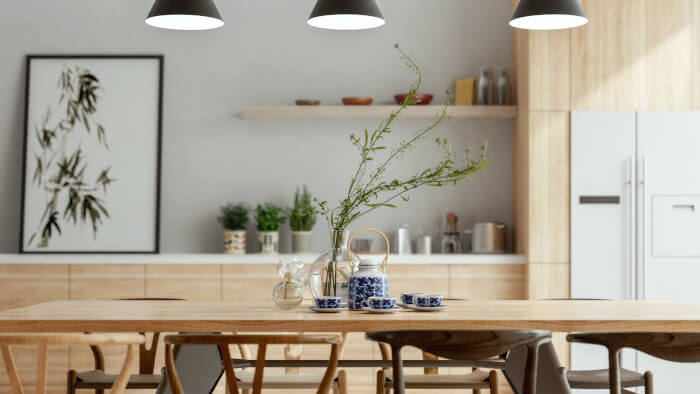 Besides showing the interior of the project you will also find a detailed description of the entire lighting process from the artist. He uses a white background instead of an HDR map.
The key light sources for the project are a Sun Lamp that has a Backbody Node and an Area Light placed at the large window. Using an Area light at windows is a popular technique among architectural visualization artists to improve interior lighting.
If you want to view the detailed description with screenshots, visit the project thread at the Blenderartists forums.
How to use the Blackbody Node? The Node will allow you to choose the color for a light source based on a scale of temperatures in Kelvins.

Notice that for this particular render the author is using color with 6600 Kelvins.
Since Eevee doesn't support shadows from HDR maps at the moment, using a white background is a great way to setup interior lights for architecture.
Using Blender for architecture
Do you want to use Blender for architecture or render your projects using Cycles or Eevee? We have three books available that could help you!
They cover the use of Blender for producing architectural content and also all information you need to render projects in real-time:
You can get them in both digital and paperback formats. By ordering those books, you will not only improve your skills with Blender for architecture but also support Blender 3D Architect.