Mind map of YafaRay lights for architecture
One of the ways I use to organize my presentations and even the subjects of my books is with Mind maps. This is a powerful and intuitive way to organize and display information, in order to plan or make decisions. If you are a Blender user that renders your projects with YafaRay, you may already felt confused or lost about the best YafaRay light for each project. Well, with a mind map of all types of lights available in YafaRay you will start to have a full picture of all options available.
Below you will find the Mind Map about YafaRay light system. Since the lights available in YafaRay are different from those we are used to work in Blender, a full view of those options is a great starting point, especially for inexperienced users.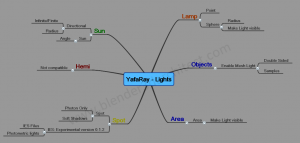 All YafaRay light become available at the exporter script in the Blender interface. To see those options, we have to create a Blender Light and select it, and see the context of the Object panel at the exporter script change. For instance, if we select a Sun Lamp in Blender two options will become available at the Object panel, which are the Sun and Directional lights of YafaRay.
The best choice and scene to use each of those lights will depend on the render Method you setup for the render. When the render method is set to Path Tracing, the best types of lights are the ones with a big size or are. If we choose the Sphere type, Area or Objects as a light source, the Path Tracing algorithm will render faster.
For projects using Photon Mapping we can use almost any type of light system, just keep in mind the number of Photons and that Photon Mapping works better for closed scenes, like interiors.
One of the light types that I like the most to use in my projects is Objects as a light source. For those of you with a few experiences in photography, the use of big planes as light sources is the best option to simulate a studio environment or improve the light of a single image.
I hope you enjoy the Mind Map. In the future I will post more schematic views of content related with Blender or architectural visualization.