First preview of the LuxRender exporter for Blender 2.50
The development of Blender 2.50 is going quite well, and after the great presentations showed on the Blender Conference 2009, with a preview of the work being created by the Durian team, the community became even more exited about the release of the "Beta 0" version of Blender 2.50. Most of the tools developed for Blender 2.50 are aimed for general animation projects, and for architectural visualization artists we can highlight the B-Mesh system and the better support for the COLLADA file format.
One thing that I still didn't saw on any of the test build of Blender 2.50 was a preview of the exporter scripts, which we use to render scenes with LuxRender and YafaRay. A few days ago I was browsing through the LuxRender user forums when I saw a message from a developer, showing a preview of will might become the LuxRender exporter for Blender 3d 2.50.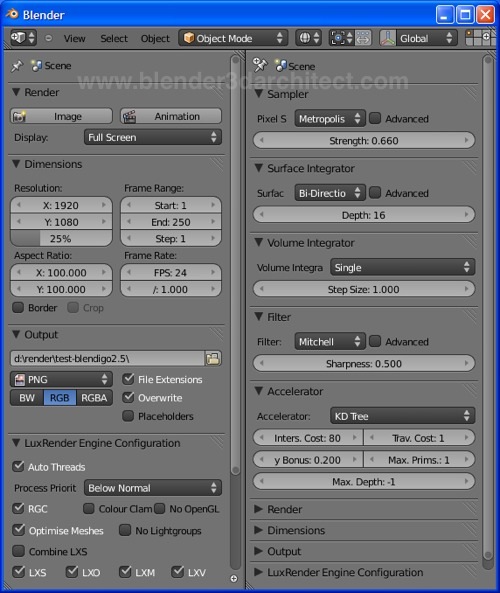 As we can see by the image, the LuxBlend interface will now blend with the overall interface of Blender, and the buttons and options will be available at the scene panel, just like the options to setup a render with the internal render.
This will make the learning process of LuxBlend a lot easier, because an artist used to work with Blender will become familiar with the exporter in a shorter time. I see that all the time in my classes, when users start to work with the YafaRay and LuxRender exporters, they get confused in the first steps, because of the differences on the layout of both exporters.
Is the exporter available to download? No, it`s only a preview of what it will become when the script is functional and integrated with Blender 3D 2.50. If you want to know more about the development of this exporter, visit this link and read the full discussion on the LuxRender user forums.
Before you abandon your work with Blender 2.49, know that for production environments, it will be best to stick with 2.49 for a while, until we get a stable release of Blender 2.50. I know a few people that are already trying to use the 2.50 branch in production. But, it will put your project in a high risk! Unless of course, if you are part of the Durian team, it won`t be a problem.