Square redesign with Blender and SketchUp (Profile)
The project profile series of Blender 3D Architect is a collection of articles aiming for feature projects related to architectural visualization. We invite talented artists to share additional details about each project to demonstrate how they approach each stage. And also allow each author to publicize their work among our readers.
How does it work? It is like an interview, where we send a couple of questions about a project for the artist.
If you want to check previous project profiles, visit this link.
Today, we have a project named Square redesign from digital artist Michał Malewczyk, which used SketchUp and Blender to render conceptual design studies for the areas in the coastal belt of the town of Rewa in Poland.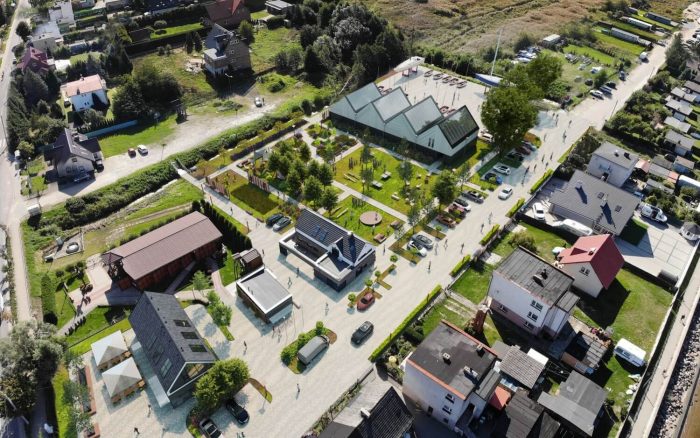 (Click to enlarge)
What is unique about this project? The overall project features some unique characteristics when we consider the use of Blender for architecture. We have integration between Blender and SketchUp to create concepts for a large area. The authors work with various buildings and urban furniture and even do photo-matching using a drone. It is undoubtedly a unique use of Blender and the type of project that I enjoy sharing here in Blender 3D Architect.
Let me thank Michał Malewczyk for sharing the details about the project with Blender 3D Architect readers.
---
Was it a commissioned project? What can you tell us about the motivation for this project?
Yes, I was invited to cooperate by a friend, the owner of R3D3 architectural workshop. The study included preparing a conceptual design for the areas in the coastal belt of the town of Rewa in Poland. The present land developed into a football field is planned for revitalization. The central part of the investment is occupied by public spaces limited by the building of the Harbor Authority, the planned yacht club building, and the drainage ditch. As part of the investment, there will be a connection to the existing car park, the construction of a new yacht club building with a maneuvering yard, and a new building with a meeting room for residents and a club cafe. We did urban designing together, R3D3 provided the architecture for new buildings, and my job was to visualize everything.
Did you use any references for modeling, like technical drawings?
We started with quick sketches on paper, and then we made a preliminary design in SketchUp. SketchUp is great for the designing process because it is similar to building an actual model with cardboard. I exported a simple model from SketchUp to Collada and moved to Blender. From the beginning, we were using a vectorized map underlay in .dxf format.
Did you model everything in the project, including furniture and props?
I modeled the site, so the pavements, benches, trash bins, lamps, playground, pergolas, and the terrain. Elements of small architecture are just simple box modeling with added bevel modifier. The surrounding buildings were just simple white boxes. R3D3 modeled the building of the club-cafe and yacht club in SketchUp, so I imported them as Collada. I've only added roof tiles, flashings, and some furniture in the interior to the club-cafe, but the yacht club building was remodeled in Blender from scratch. The elevation was crucial in the yacht club building, and I didn't want to do it with a simple texture. Below is a quick summary of how I modeled some tricky parts of the architecture:
a) Roof tiles – made an array of single roof tiles, applied modifier, and then in edit mode separated tiles by loose parts, so every tile is a single object, selected them in object mode, and added Randomize Transform
b) Flashings – this is spline modeling, started with duplicating some edges for flashings' "paths" and separating them into new mesh objects, subdivided every edge, and applied displacement modifier with noise on the Z-axis to add some realism, converting mesh into a curve and added Bevel Object
c) Wooden elevation – made in the same way as roof, it is just an array of boxes (cut with knife project and closed with Fill Holes in Clean Up Mesh) with added Randomize Transform."
Image
(Click to enlarge)
What can you tell us about the designs (Layouts, materials, and props)? Did you have to create it yourself?
I used ready-to-use plants from 3DShaker and GlobePlants. Furniture like chairs and tables are from 3DShaker and Chocofur. I also used some boats and low-poly 3d people from 3Dwarehouse, imported as Collada. Those models were linked to the scene and set up manually with added "Randomize Transform" at the end. Cars are from the Transportation add-on and 3DShaker. The grass is a Biome from Scatter.
How long did it take from start to finish?
It is hard to say how long this project took. We started designing around April 2021 and finished in November 2021. We were doing some general changes in the urban layout until the end, so I remodeled the site a few times. I also didn't work on it the whole time.
What hardware did you use to render? Can you share some render times?
I am working on a 2016 15-inch MacBook Pro core i7 with 16GB of RAM. It is still quite a comfortable machine for modeling, texturing, and post-production, but it is extremely slow rendering. I was also doing it on 2.93 Blender, so it has no Metal support. Every scene was rendered around 8–10 hours on CPU, 4200×2970 pixels, 1000 samples with open image denoise.
Can you share any details about the lighting process?
Lighting is a simple HDRi map. I have some pre-made node groups with already added textures, so I link them to my projects. Sometimes I add some slight gamma correction or change the strength.
How was the process of creating the aerial views from the project?
The aerial views are a mixture of renders and photos from a drone. We started with stacking a few photos from a drone in Affinity Photo to get an appropriate range of surroundings. Then in f-spy, I set up the perspective (which now can be done in Blender) and imported the camera to Blender. The rest was done in Affinity Photo.
Did you use any Add-ons or external tools to create the project?
CAD-like transform to rotate objects precisely and align them to different objects in a model or 2D underlay, like the map.
Scatter – I use it for scattering grass with their Biomes, which are very nice and ready-to-use.
Transportation is a great add-on, but I usually use it as a library of cars, so I link models to avoid increasing memory usage on my hard drive.
What would you say was the most challenging aspect of working on this project?
The most challenging was figuring out how to correctly set up textures for mixing colors on paving and achieving an effect consistent with our design assumptions.
Thanks again to Michał Malewczyk for sharing details about their work. You can check more projects from him at r3d3 and Behance.