Kitchen and living with Blender Cycles (Profile)
The project profile series of Blender 3D Architect is a collection of articles with the aim of feature projects related to architectural visualization. We invite talented artists to share additional details about each project to demonstrate how they approach each stage of the process. And also allow each author to publicize their work among our readers.
How does it work? It is like an interview, where we sent a couple of questions about a project for the artist.
If you want to check previous project profiles, visit this link.
Today we have an interior from digital artist Paweł Pęcherzewski, which uses Blender Cycles to render an interior scene.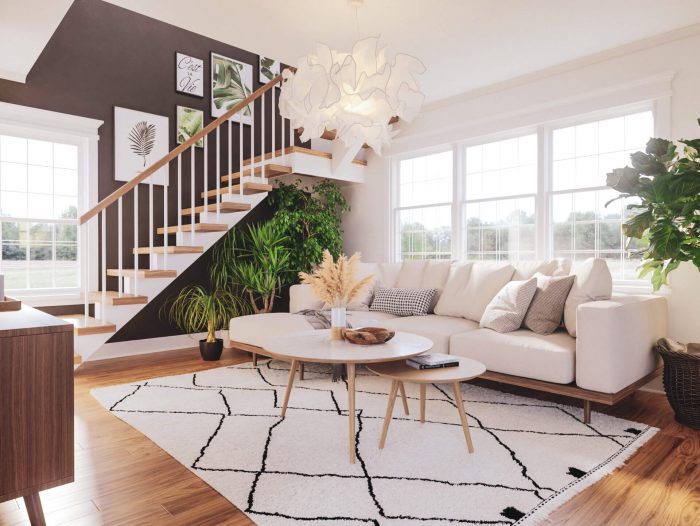 (Click to enlarge)
What is unique about this project? One aspect of this project will catch your attention, which is the workflow. According to the author, he received a reference model from the client, which is helpful in many cases but wasn't usable for this particular project.
Besides that, you will also learn that production doesn't stop with Cycles. The artist shares some of his tricks related to post-processing.
Let me thank Paweł Pęcherzewski for sharing the details about the project with Blender 3D Architect readers.
---
Was it a commercial project? What can you tell us about the motivation for this project?
Yes, It was a commercial project for Backyard ADUs. I wanted to create a simple and bright interior with a Scandinavian vibe to it.
Did you use any references for modeling, like technical drawings?
I've got the model from my client, but I had to model my own geometry on top of it because the topology was a mess that would only make things more difficult.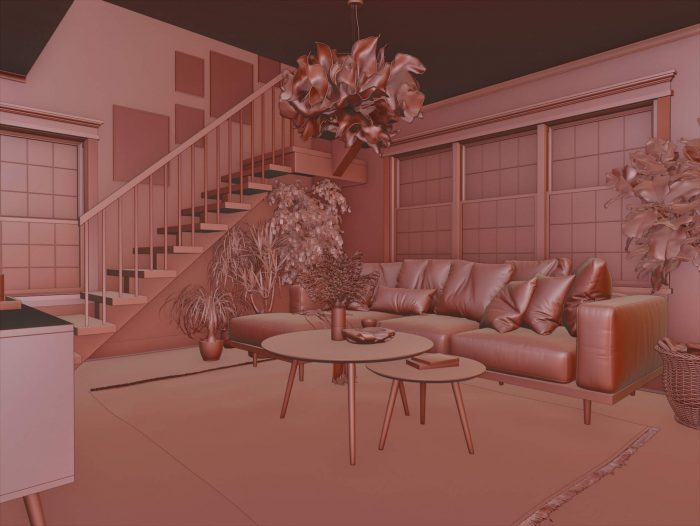 (Click to enlarge)
Did you model everything in the project, including furniture and props?
I'm mostly using paid assets (getting them from 3dSky), and I got the carpet from another Blender user (it was also used here).
What can you tell us about the interior design (Layouts, materials, and props). Was it part of the project or did you had to create it yourself?
The design was my idea, but I had to follow a basic layout from the client (mainly in the kitchen).
It took about three days.
How long did it take from start to finish?
I've rendered it on a single GTX 1070, and to my surprise, render times were surprisingly high. The kitchen rendered in around 4 hours, and the living room took over 9 hours (both at 4000 samples). I assume it was the carpet that contributed to it though I feel it was worth it.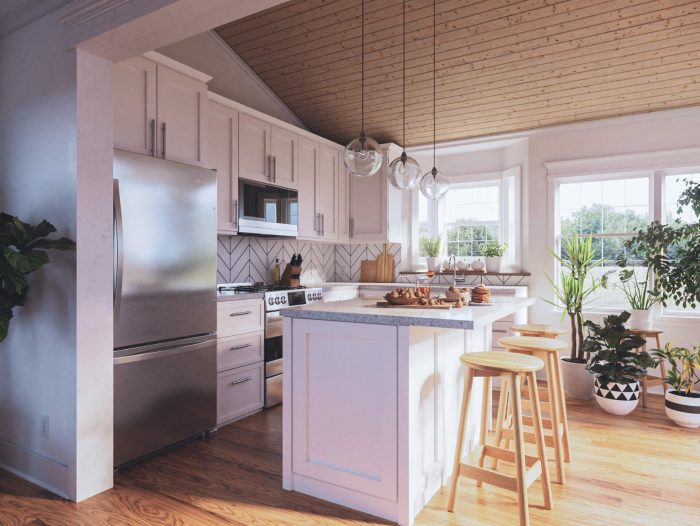 (Click to enlarge)
What hardware did you use to render? Can you share some render times?
Lighting is fairly simple, and it's one of my favorite setups for interiors. A cool colored world that simulates a cloudy sky with strong and warm sunlight. With a higher radius that imitates the sun behind clouds and gives beautiful, soft shadows.
Can you share any details about the lighting process?
I rarely use add-ons for interiors, and it was no different with this project.
Did you use any Add-ons or external tools to create the project?
Once everything is rendered, I always take my renders to Corona Image Editor to play with lights and shadows. It also gives great results when it comes to effects like bloom and glare, and I love all the LUTs it provides. After that, I made some final tweaks in Photoshop to get as close to realism as possible.
---
Thanks again to Paweł Pęcherzewski for sharing details about his work. Visit his portfolio page if you want to reach him or see more of his architectural visualization projects.