7 Free full scenes with architectural projects in Blender
There are multiple ways you can choose to learn architectural visualization, like getting a course or reading a book. Besides those methods, you can also get some existing projects made with Blender with a focus on architecture, and analyze all settings from that project. The main problem with this finding a scene with proper settings for an architectural render.
If you are trying to find such a resource, we have an invaluable download recommendation today.
Here is an incredible opportunity to develop your skills in architectural visualization using existing scenes as a reference. The artist Filipe Lima Botelho shared a total of seven full scenes at the Blender Artists forums, which you can download for learning purposes. Most of the scenes feature an interior project and have all the settings ready for rendering.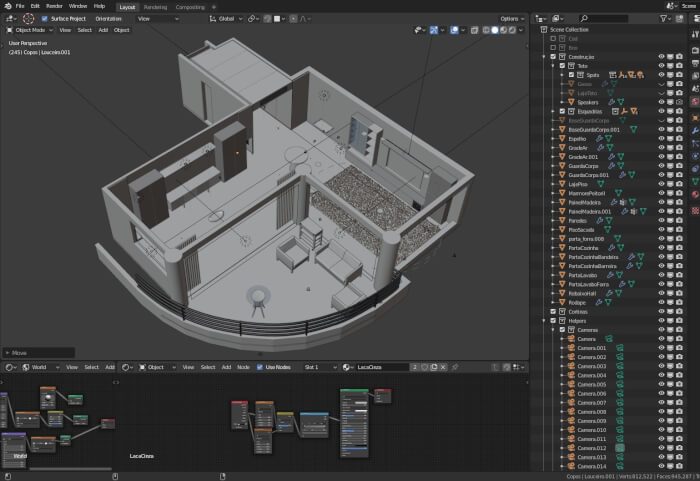 Among the scenes, you will find:
Beach apartment interior
Bathroom interior
Kitchen interior
Pub exterior
According to the author, he removed all copyrighted material from each scene. That includes textures and some furniture models. Besides that, it is an incredible resource for anyone willing to learn about architectural visualization with Blender.
As a bonus, you get some of the projects with settings for renders like:
Cycles
E-Cycles
Eevee
Octane Render
You can even compare settings among some of the options. The E-Cycles versions work great with regular Cycles.
If you want to download the files, I recommend acting fast. The artist is offering them as shared links from his personal Dropbox account. They can go offline at any moment.
Can you use the material as a source for other projects? Unfortunately, you won't find any licensing information about existing assets for each file. In case you wish to use them in commercial projects, I recommend contacting the author.
Using Blender for architecture
Do you want to use Blender for architecture or render your projects using Cycles or Eevee? We have three books available that could help you!
They cover the use of Blender for producing architectural content and also all information you need to render projects in real-time:
You can get them in both digital and paperback formats. By ordering those books, you will not only improve your skills with Blender for architecture but also support Blender 3D Architect.