Technical drawing creation with Blender and Inkscape (Workshop)
After a long period of planning and preparation, we are proud to announce that our first updated workshop for Blender is already available. If you keep track of our content for some time, you know that we had a small portfolio of training material in the past. After a while, that material became outdated, and due to limitations on how we formatted the content, I decided to look for a better way to distribute that content again.
Earlier this week, we finally posted an updated version of our technical drawing workshop on Gumroad. There we have lots of features and advantages over the old format. You can either download or stream the content and access the material using a mobile app (iOS and Android).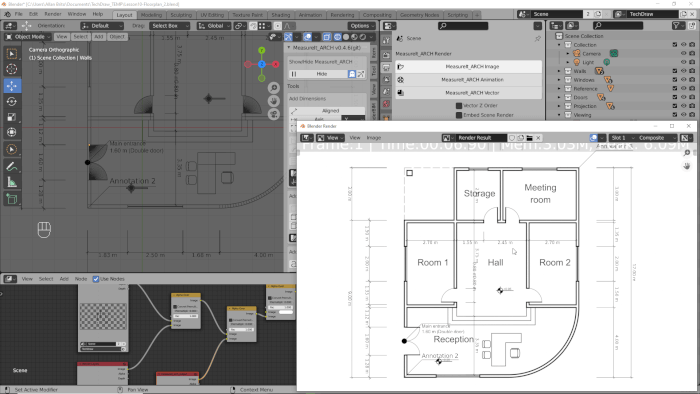 What is this new workshop about?
The best way to explain it is to say that you will learn to use Blender as if it was CAD software. You will draw 2D technical drawings and add all of the elements making such as:
How to render lines for technical drawing
Use collections
Compose scenes with view layers
Filter drawing elements for rendering
Organize a scene with Line Sets and Styles
Draw architectural elements like walls, doors, and windows
Add and edit dimension lines (Metric and imperial units)
Include text labels
Work with architectural symbols
Import CAD files to Blender (DXF and DWG)
Use CAD blocks to add furniture to a technical drawing
Render the project as an image (PNG)
Export the drawing as a vector (SVG)
Edit and fix SVG problems in Inkscape
Add new drawing elements in Inkscape
Set a page layout in Inkscape to export as a PDF
As you can see from the description, we will even be able to export the content as an SVG file to edit and fine-tune the drawing in Inkscape.
This workshop has ten lessons and 52 videos with an entire workflow on how to draw a floor plan. I start from scratch and even make a quick intro to Blender in the first lesson for those who don't use the software yet.
By the end of this workshop, you will view Blender as a 3D modeler and as a capable design software to produce documentation about your designs.
Blender 3D Architect Pro subscribers get this workshop for free
If you are a Blender 3D Architect Pro subscriber, check your inbox for an access code that gives you this workshop for free. That is a newly added benefit to the subscription. Every month, I will give access to a new course or workshop for subscribers.