Architectural scales with Inkscape – B3DA Pro tutorial
The easiest way to start using open source in architectural designs is by saving your projects using open standards. Whenever you have an architectural project, keep those files in formats like SVG, IFC, or anyone open and easily accessible. Since those are text files, you can open them anywhere and even extract data from them without needing "special" software.
Regarding technical drawings, you can use SVG to both save and share architectural projects. If you need to edit those files, the best solution is to use Inkscape. I have a full workshop describing how to use Blender and Inkscape to create technical drawings. The output, in this case, is an SVG file with all your design information.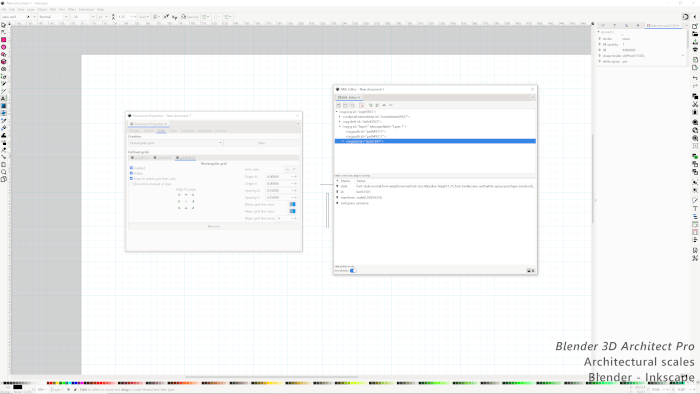 What if you need to edit them? Or place the drawing in a paper layout to share in PDF? By using Inkscape, you can edit and make lots of adjustments to any technical drawing like:
Choosing from different paper formats (ISO standards and also American sizes ARCH series)
Set a scale for editing and adding new content
Include text information and fix potential problems in the SVG
Export the drawing as a PDF
If you want to learn more about the process of controlling architectural scales with Inkscape, I shared with Blender 3D Architect Pro subscribers a tutorial describing how to use the grid as a reference to control distances and measurements. The tutorial describes all steps needed to use architectural scales in Inkscape (Metric or Imperial).
All subscribers received a link to download the content to their inboxes, and until the end of the month, it will also be available on the Blender 3D Architect Pro library.
Here are a few details about this tutorial:
Length: 16:16
Resolution: 4K
Size: 435 MB
Companion files: SVG used in the tutorial and PDF with references and shortcuts
If you want access to this type of content and receive weekly updates with tutorials, assets, and news briefings use this link to join Blender 3D Architect Pro for a discount.