Bank building visualization with Blender and Octane
The vast majority of visualization projects that you will find in artists portfolios will be about a residential space. From time to time, we got to see something that drives away from the usual living room, bedroom, and kitchen images.
Like the project that we feature today, which is about a bank building in Münster, Germany.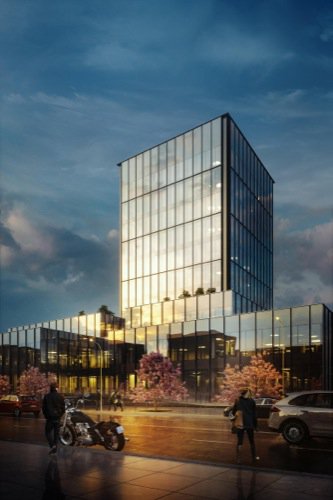 For that particular project, you will find a post at the BlenderArtists forums with a high-resolution image some information about the tools used to create the image.
The author of the image is Piotr Chodor from studio NVISION. They have an impressive portfolio of architectural visualization, working mostly with Blender to create their renders.
We did reach to the author to ask him more details about the project; he kindly shared with us a few more details.
The project demanded about four days of work from start to finish;
For the modeling, he did use 2d plans provided by the architect responsible for the project. In this case, Andreas Heupel is behind the design;
To render the project he chooses Octane Render;
How long did it take to render? For a resolution of 6750 x 4500 pixels, he manages to render in about one hour. As for the hardware, he used three GTX 1080 Ti to achieve that render time.
Post-production was in Photoshop.
The final result looks impressive and is another great example of artwork related to architecture.
Another project using Octane Render that also shows scenes not related to residential projects is this Brewery bar that we posted a couple of months ago. You will also find some impressive renders for that particular project.
Do they have anything in common? Like the bank project, the author of the Brewery bar also used multiple GPUs to speed up the rendering. The substantial investment in hardware pays off for those complex scenes, in shorter render times.