Apartment design with Blender and Octane
I try to keep track of lots of architectural visualization projects created in Blender. But sometimes I miss a few of them, and I just found one that shouldn't get missed at all! It is an apartment design created in Blender that is, again, another beautiful example of architecture made with Blender.
Back in November, the well known 3d artist Enrico Cerica shared an apartment design created in Blender and Octane. And somehow I missed this project here at Blender 3D Architect. Did you miss that as well? Just follow the link to get a huge set of images from this apartment design.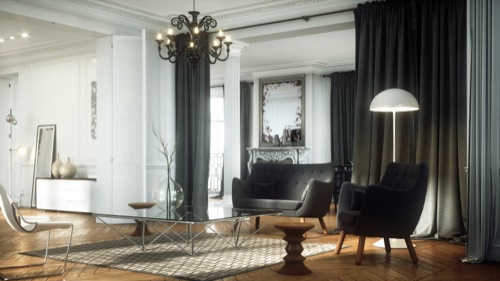 Apartment design on multiple GPUs
As usual, we have a few details of this project for anyone willing to learn from the project. According to Enrico, this apartment design had the modeling done in both Blender and Marvelous Designer. The render engine responsible was Octane, and he manage to get all images done in four GTX cards.
You didn't read it wrong, a total of four GTX cards were necessary to get those images rendered. There is no mention about that in the post, but a technology called SLI that enables graphic cards from NVIDIA to work together. If you have plans to use such technology to improve your renderings for architecture, I suggest this page with a list of compatible GTX cards that works with SLI.
Does it worth to have multiple cards for architecture? Sure! By going with multiple graphic cards, you will get a boost on both rendering, and will push the number of samples even further! More samples mean less noise and better images for architecture.
Just remember that getting multiple graphics cards will also demand some updates on power supplies, and cooling. A modern graphics card these days already requires some decent and stable power supply. With two or more of them I keep wondering the level of energy consumption and heat!
An alternative for that would be to send your projects to a Render Farm, and keep your hardware only for modeling purposes. All the heavy work would get directed to the Render Farm structure.
All students from Blender 3D Architect, enrolled in any course can request a student account at a Blender Render Farm. Just follow this link to know more about Lion Render and the partnership with Blender 3D Architect.