Tips to improve realism in rendering
To represent an architectural project, a 3d artist has to choose between two ways to show this building or space. The first option is to use a NPR style rendering, which in this days are not among the most required rendering styles. An NPR rendering is often used as a way to make volumetric studies for the project development. It's quite unusual for a client to request an image with a watercolor look. This will lead us to the second way to show a project, which is a realistic render.
But, with that in mind we can ask ourselves: how can I make my renderings look like photos?
This is the point where I want to recommend you to read this thread in the CG Society forums, where an artist point out some tips to improve rendering. Well, the full discussion ends up as a compilation of tips and techniques from several artists, about the best ways to improve realism.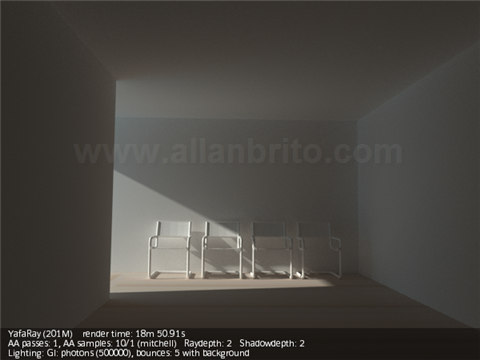 The tips found there can vary from a single recommendation like the use of an Unbiased render engine or apply dirt to your textures. Here are a few highlights from the threat:
Bevel all edges of a 3d model
For animations, you should always use some level of Motion Blur
Use the correct colors temperature for lights. For instance, the sun light has a blue color (tip: check out this table of light color Temperatures for Mental Ray. You will find the correspondent light color for a lot of situations)
Apply any type of lens distortions to the final rendering
Always try to apply some level of depth of filed
Use only physically correct lights, like Area Lights
Those highlights represent only a very small part of the full threat! I strongly recommend you to make a visit there and read every tip carefully.
Is it about Blender 3D? The whole discussion is focused on the techniques and not aimed at any specific software or 3d suite. So, the tips pointed there could be applied in Blender 3D or with the combination of Blender 3D and external renderings like YafaRay, Indigo, LuxRender or Kerkythea.