Blender 3D: How to use the Photon mapping build
As you may already know some experiments and projects by some Blender 3d developers' wants to bust up the internal render, with the capability to use Global Illumination. One of those projects is lead by farsthary, have received a few test builds in the last days. Since I wanted to check out how the GI tools were implemented, I decided to make some tests. There are two options to do the test, if you want to try it yourself, which are a linux build and a windows build.
I my case, I will use the Windows build to test. Before you go to graphicall.org and download the build, let me warn you that this is an experimental build, which means; it may not work or even corrupt the files you open with it. So, be very careful with the files you open with it. This build was made by travisdk.
After downloading the build, you will find a new and shiny button right next to the regular render options. This button is labeled GI, and controls the use of Photon mapping GI in the rendering.
Just press the button and everything will be fine, right? Actually no! We will have to still setup the GI parameters, at the Photon Mapping menu. But, where is it?
This build seems to have a small bug, which hides the menu behind the Render Layers menu. All we have to do to make it appears is; to drag the Render Layers somewhere else, and the Photon Mapping menu will pop up.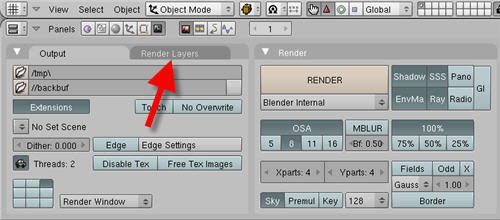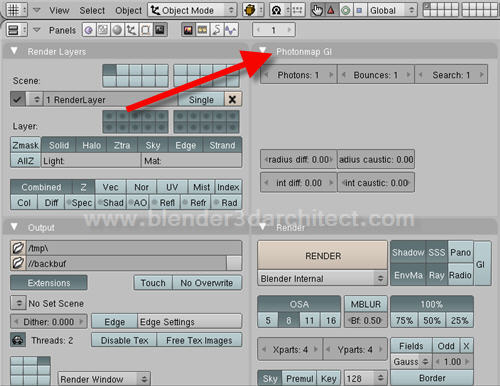 After the menu appears, we can setup the GI render with the following parameters:
Photons: Total number of photons used for the scene
Bounces: Number of light bounces
Search: Total number of photons to search for the render
Radius diff: Radius of the photons on the scene
Int diff: Intensity of the diffuse light
Int caustic: Intensity of the caustics effect
Radius caustic: Sets the radius for the caustics photons
With everything set, all we have to do is render an internal scene to see how it looks.