E-Cycles holiday sale (up to US$ 100 OFF) – Last Day!
As you probably can tell from the numerous projects we feature and articles, we are big fans of E-Cycles as a renderer for architecture. Because it offers the convenience of working as if it was regular Cycles, but with lots of tweaks with a focus on render speed, usually you can see render speed gains of up to 2.5x times when compared with regular Cycles.
For artists with an RTX graphics card, the E-Cycles RTX version is even faster. There are multiple examples of those render speed gains on the E-Cycles page in the Blender Market.
The developer of E-Cycles started a sale focused on the holidays, which will end on January 4th/2021.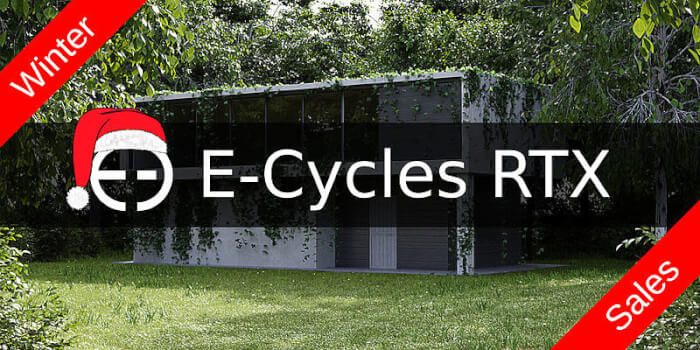 You can get a US$ 50 or US$ 100 discount on E-Cycles depending on the choice and coupon code used:
HoHoHo to get US$ 50 OFF in E-Cycles
HoHoHoHoHoHo to get US$ 100 OFF in E-Cycles RTX
Side note: That is a coupon in full holiday-mode.
One aspect of this sale is that it covers the 2021 season of E-Cycles and the remaining versions of 2020. As you can see from the description of each version, it grants you all future updates for a certain amount of time when you get E-Cycles.
That means you can get a discount for all upcoming major Blender released with E-Cycles like:
Blender 2.92
Blender 2.93
Blender 3.x (Second half of 2021)
If you have an RTX graphics card, I strongly suggest you get the RTX version.
We have a tutorial showing how to start with E-Cycles.