Blender 3D Architect Pro updates (2020121)
For those of you willing to find tutorials and premium content focusing on architectural visualization artists professionals using Blender, we are proud to present Blender 3D Architect Pro. What is Blender 3D Architect Pro? It is a special section of Blender 3D Architect where we deliver content to develop your skills with Blender even further.
In the past, we had that it as part of our site but recently migrated most of the content to Gumroad. They have better tools to manage such content and provide a mobile app (iOS and Android) that you can use to download or stream our content.
Our current schedule for posting new content is every:
All active subscribers receive an e-mail with a notice about the new content and access the tutorial files from their Gumroad Library. As a bonus, if you cancel your subscription, the content remains accessible in your library.
What did we post in the past two weeks? Here is a quick summary of all the content received by subscribers. If you are a subscriber, check your inbox for updates or log in to your Gumroad profile. You can download:
Tutorial files – MP4 (1080p) | Download or stream
Source files (Blender files)
Textures and assets used in each video
By the way, at the moment, we have a sale of the Blender 3D Architect Pro offering 60% OFF for new subscribers. Use code PRO60X to get the discount. As long as you keep your subscription active, you will have the deal in all subsequent months.
The code is valid until December 31st/2020.
Introduction to Geometry Nodes (Blender 2.92 Alpha)
To start our tutorial series in Blender 3D Architect Pro, we deliver an overview of working with one of the next significant features of the upcoming Blender 2.92. You learn how to use and create models with Geometry Nodes! Have you ever thought about using Nodes to model 3D objects? Get ready for Blender 2.92 with this tutorial.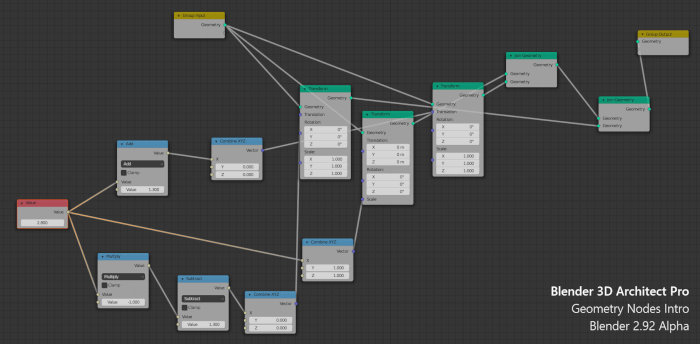 Choosing a radius for round shaped walls
When modeling walls in Blender, you might come to a project requiring you to create an arc shapes corner. Do you know how to control the radius of that wall using precision controls? In this tutorial, I show an example of how you can create and manage the radius of an arc-shaped wall.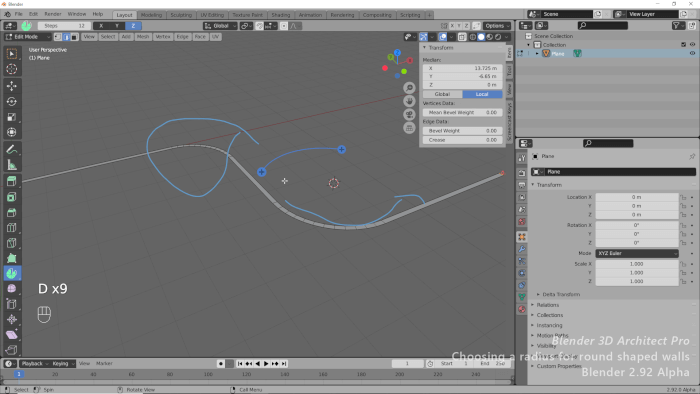 Lighting methods – Comparing HDR and BlackBody Node for interiors
Across the years, we had the opportunity to use several different methods related to interior lighting in Blender. We compare two popular choices regarding interior lighting in this video, which is a plain HDR map and the BlackBody Node.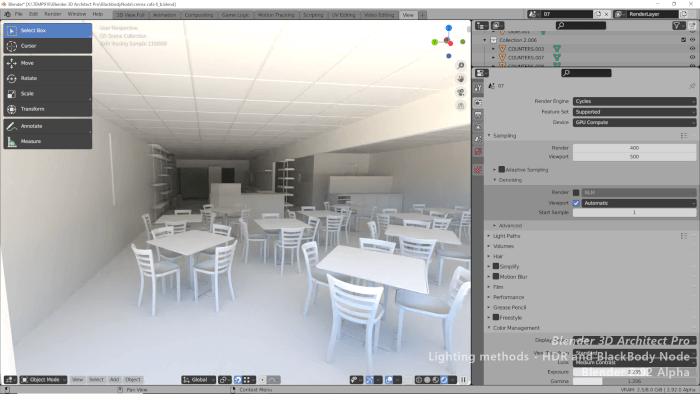 Scene credits: Crema cafe (Open Design) – CC BY-SA 4.0
Using CAD tools to create walls in Blender
Do you know that Blender has some built-in CAD-like tools to help you in modeling? We show an example of how you can work with construction lines (edges) to speedup wall modeling. With a tool similar to a TRIM from CAD platforms, you can quickly start modeling walls.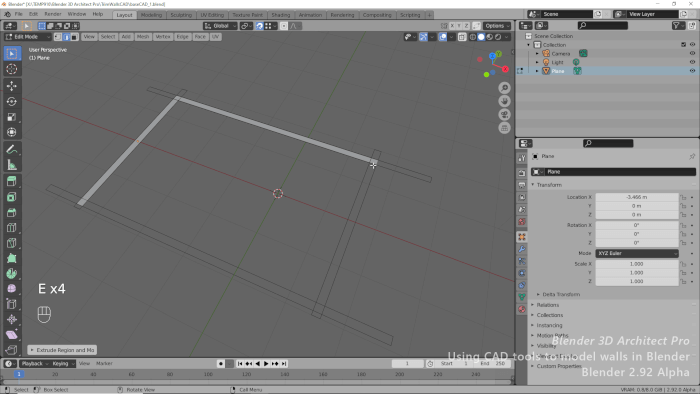 Editing UV maps and adding textures to furniture models
We often share furniture models and assets with our readers and newsletter subscribers. Those models usually do not feature textures or materials. It is relatively easy to add those materials if you know how to edit and change UV maps. In this tutorial, I show you how to edit and add materials to one of those models.