14 Free decorative tiles for architecture
One of the best and easiest resources you can get only for your library are PBR materials, which can help you in multiple projects. Some of those libraries have a clear focus on architectural interiors, but others could also work on real-time renders like games. Would you like to add 14 free decorative tiles to your collection?
The artist Julio Sillet has a pack of those decorative tiles available on his Gumroad profile that can work in both architecture and game projects.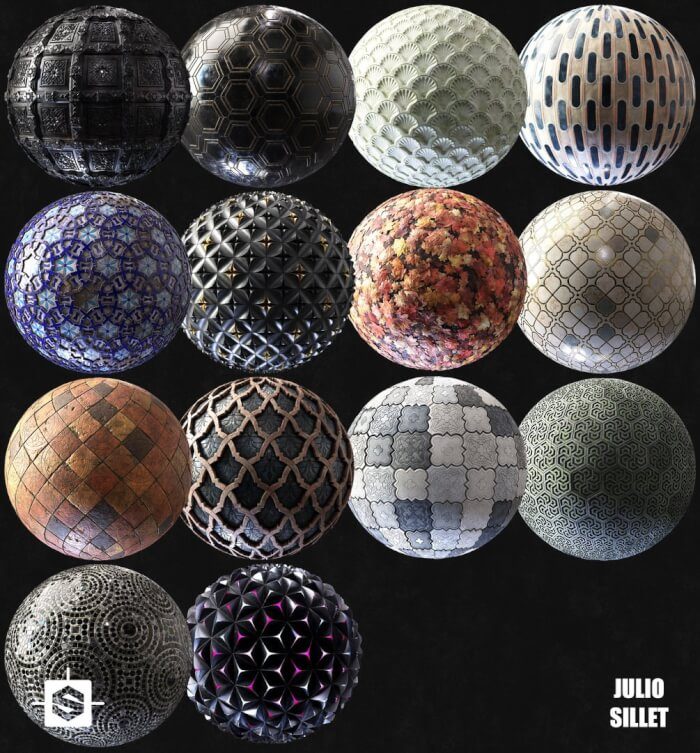 From the pack, you find textures in 4K resolution with maps for Diffuse/Base Color, Roughness, Normal, Height, and Metallic.
As a bonus from the resources posted by the artist, we also get a Blender 2.9x file. That way, you can easily append the PBR textures to a project. The resource uses the Gumroad "fair price" model, where you can donate any amount you want to the artist before downloading. By entering zero, you start a free download.
Using Blender for architecture
Do you want to use Blender for architecture or render your projects using Cycles or Eevee? We have three books available that could help you!
They cover the use of Blender for producing architectural content and also all information you need to render projects in real-time:
You can get them in both digital and paperback formats. By ordering those books, you will not only improve your skills with Blender for architecture but also support Blender 3D Architect.