Vintage-inspired kitchen with Blender Cycles
From all possible scenes that an interior visualization artist might work, some of them will demand an additional effort. For instance, a kitchen visualization will eventually require you to spread a lot of objects over surfaces to give the proper context.
The visual style is another significant element of a kitchen visualization because it will drive all furniture, textures, and objects in the scene.
Here is an interesting project from Brazilian artist Gabriel Prado, which posted at BlenderArtists forums, a vintage-inspired kitchen visualization rendered in Cycles. All of his renders have a unique look.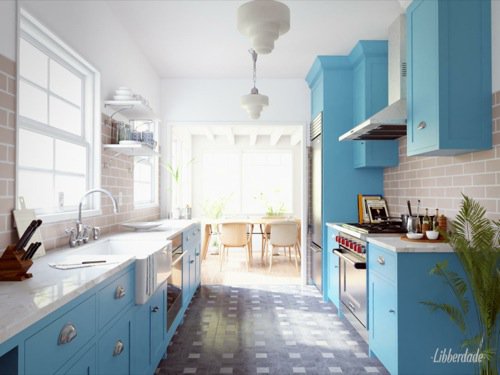 According to the author, each image took about 20 minutes to render with only 600 samples. To get such a small amount of samples he did use the Denoiser. The GPU used for all renders is a reasonably old GTX 960 with 4GB of memory. Even with a generation old GPU he still can produce some impressive results.
To get such short render times the artist shares some of his settings at the BlenderArtists forum thread, and the main tweak he uses for rendering is a combination of ambient occlusion with low Diffuse and Glossy bounces.
In Cycles, the default values for both Diffuse and Glossy bouces are 4, and the artist cut that in half. Using only an amount of two for both Diffuse and Glossy.
Another setting that makes a huge difference is the exposure control for the camera. The artist also shows a comparison between two renders with and without exposure controls. A considerable improvement in lights!
References for kitchen rendering and Cycles
The primary reference for his work in this project is Emily Henderson. She is an interior designer specialized in vintage home design. If you take a look at her portfolio, you will instantly see the same visual language from the renders.
If you need some design inspiration to work with vintage interiors, her blog is an excellent source of reference for furniture and layouts ideas.
For a different type of approach on interior visualization for kitchens rendered in Cycles, you can take a look at the work of another artist. We did an interview with Charles Turner about his massive portfolio of kitchen visualization with Cycles. He also shares some of his settings in the article.