Sunshine canyon house (SketchUp and Blender)
In the past few weeks, I posted the importance of having access to SketchUp files in Blender in many locations. You can use those as a starting point for a visualization project and also import assets received from a client to use in a scene. With that in mind, I even updated the guide on how to import SketchUp 2022 files to Blender 3.0.
Do you want to see an example of how it can be helpful? Here is a project from an artist called Khánh Nguyễn, shared in the Blenderartists forums. The project has the name of Sunshine canyon house from Max Achkovsky.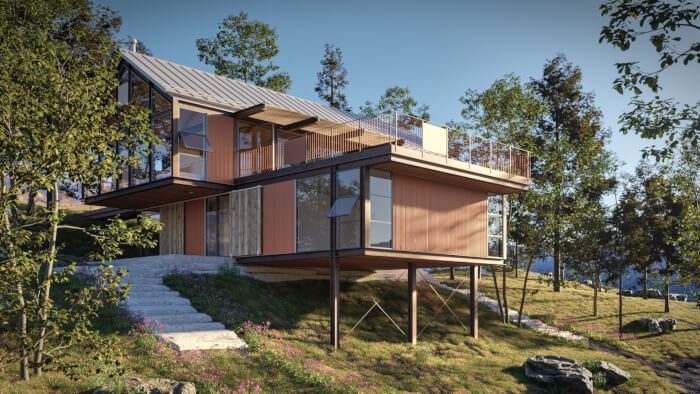 The 3D modeling for this scene came from a SketchUp file downloaded from the 3D Warehouse. Using the workflow to import SKP files to Blender, the artist could add and set up everything in Blender to render with Cycles.
As a result, we get these great-looking visuals that would be impossible to create using SketchUp alone. The best part is that you can also use the free version of SketchUp and import SKP files to render with Blender.
By visiting the link to the project, you can check some additional details like render settings and materials.
Using Blender for architecture
Do you want to use Blender for architecture or render your projects using Cycles or Eevee? We have three books available that could help you!
They cover the use of Blender for producing architectural content and also all information you need to render projects in real-time:
You can get them in both digital and paperback formats. By ordering those books, you will not only improve your skills with Blender for architecture but also support Blender 3D Architect.