Rural house with Blender Cycles
What is the most challenging type of render for exteriors? Some would say that adding large areas of vegetation and plants, could increase both difficulties and render times. If you get the right tools and Add-ons for Blender nowadays, it won't be much hard to create a large surface of foliage.
Here is an excellent example of a render that uses a significant amount of foliage and nature overall, which is a project from Indonesian artist Helmy Ardiansyah. The project is a rural house made entirely with Blender and rendered in Cycles.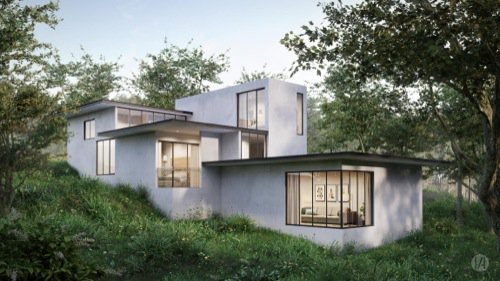 According to the artist description, each render took about 3 hours to finish using a 1440p resolution. Unfortunately, we don't have any further information about the hardware used to render all images. But, assuming the amount of data and complexity of the scene it probably uses a decent GPU.
As a side note, you can check our latest guide about GPUs for architectural visualization here. He definitively uses one of them.
We don't have much information about lights settings and overall setup for rendering, but the artist posted a screenshot of the viewport of the project in his ArtStation page.
Does he use some particular assets to get the foliage and grass? He uses an incredible Add-on that can create grass. The name of that Add-on is "Grass Free." Simple, but solves the problem incredibly well. To get the Add-on, you can visit this link.
If you have a project requiring large surfaces using grass you should definitively get the Add-on. You will be able to create grass and some other variants of vegetation, all compatible with Cycles.
The style of that project reminds me of an old render from Enrico Cerica from two years ago. The Variant House uses a similar context with large areas of vegetation. At the time, he uses Octane Render to create all images.