Residence in Revelstoke with Cycles (Profile)
The project profile series of Blender 3D Architect is a collection of articles aiming for feature projects related to architectural visualization. We invite talented artists to share additional details about each project to demonstrate how they approach each stage. And also allow each author to publicize their work among our readers.
How does it work? It is like an interview, where we sent a couple of questions about a project for the artist.
If you want to check previous project profiles, visit this link.
Today we have a project named Residence in Revelstoke from digital artist Denis Sokolov, which used Blender Cycles to create both interiors and exteriors from this residential project.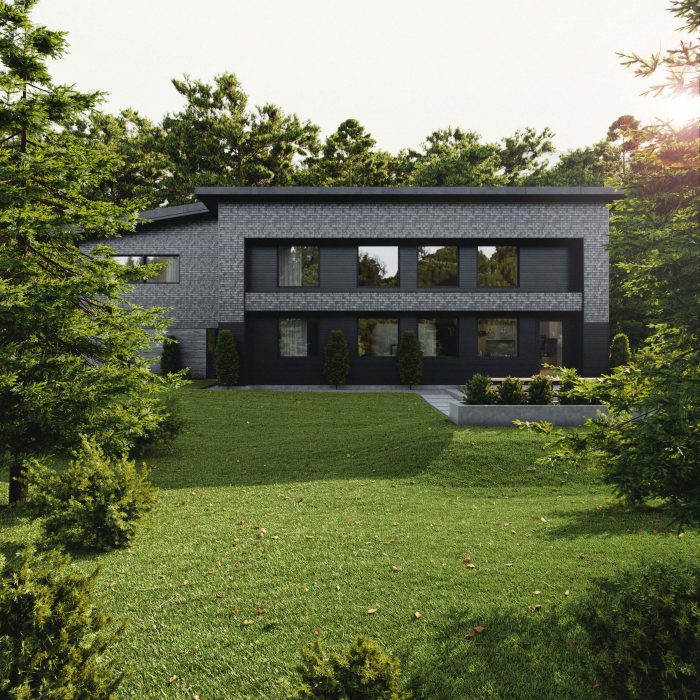 (Click to enlarge)
What is unique about this project? Unlike many projects that focus on a single type of visualization, you find residential projects featuring both interiors and exteriors as a challenge. Here we have a set of renders showing multiple angles from this project from the exterior and interior views. Despite some minor tiling issues at the facade, it shows some great skills for rendering and composition.
Let me thank Denis Sokolov for sharing the details about the project with Blender 3D Architect readers.
---
Was it a commercial project? What can you tell us about the motivation for this project?
It was a commercial project for an architecture design company located in Revelstoke, Canada.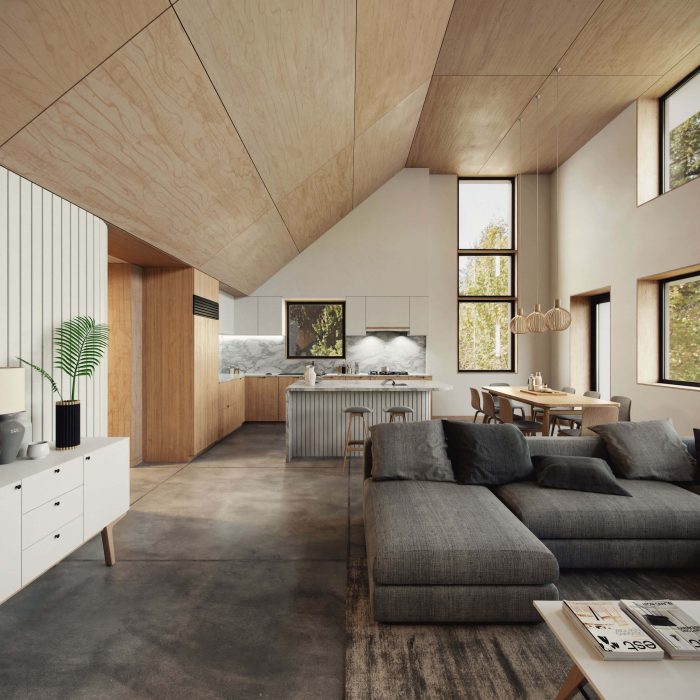 (Click to enlarge)
Did you use any references for modeling, like technical drawings?
I was supplied with a Revit file that contained a basic 3d model of the house, all architectural drawings including floor plans, elevation plans, mood board with references for the material, and furniture.
Did you model everything in the project, including furniture and props?
I modeled the house's entire exterior, interior including walls, plywood panels, windows, doors, and kitchen. I've bought high-quality photorealistic furniture and props models and used it in this project.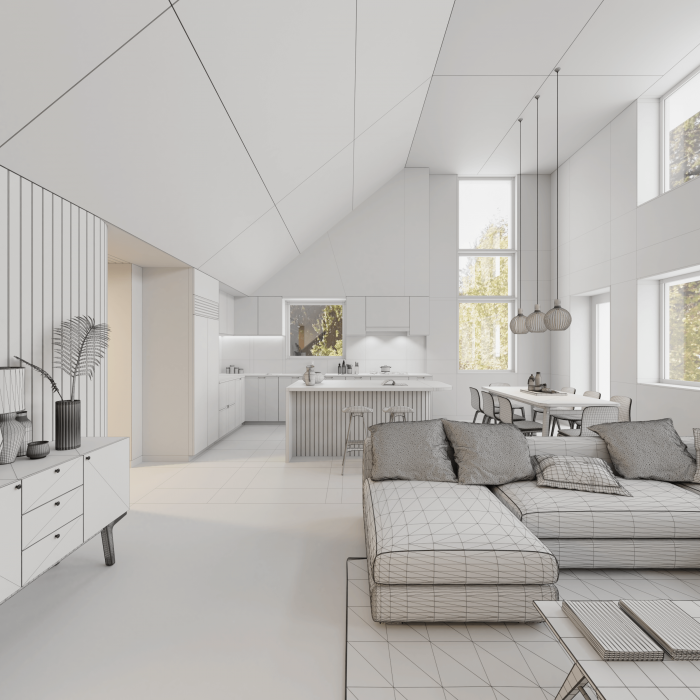 (Click to enlarge)
What can you tell us about the interior design (Layouts, materials, and props)? Did you have to create it yourself?
For interior design, the customer sent me a mood board with references of interiors and furniture models he would like to use in this project. Revelstoke is a small town in a mountain area, so the main idea was to create a simple but cozy and modern interior using natural materials such as wood, stone, marble.
Are you using a single model to render both interiors and exteriors?
First, I made interior renders, then the customer asked me to make also exterior rendering. The interior part is not the entire house interior, it's just the living room and kitchen area, so I used it for some exterior shots. For the rest of the rooms, I've modeled basic white walls and put curtains to make the house look like there is something inside; it increases the photorealism.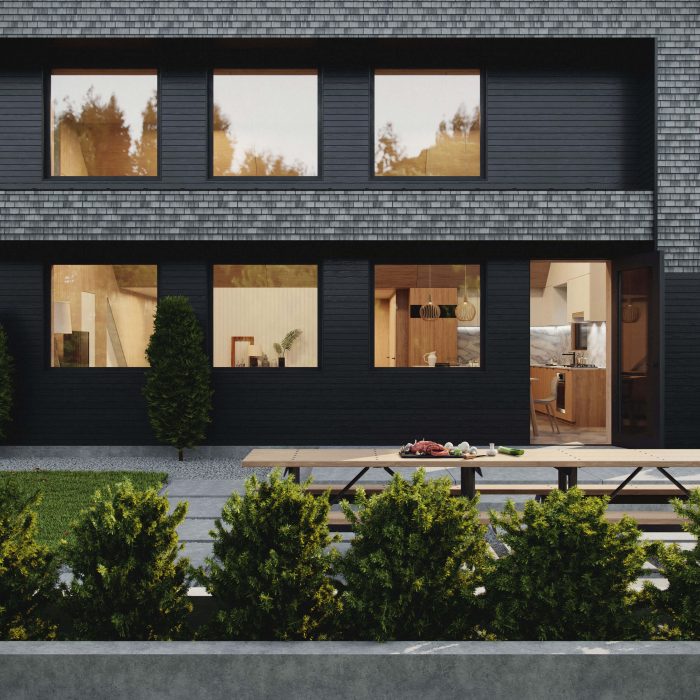 (Click to enlarge)
How long did it take from start to finish?
The entire project took six days to complete.
What hardware did you use to render? Can you share some render times?
I used Cycles for rendering. The resolution for all the images was 2500×2500. For interior shots, I used 2000 samples. It took 1.5 hours per render. For the exterior, it was 500 samples, one hour per render.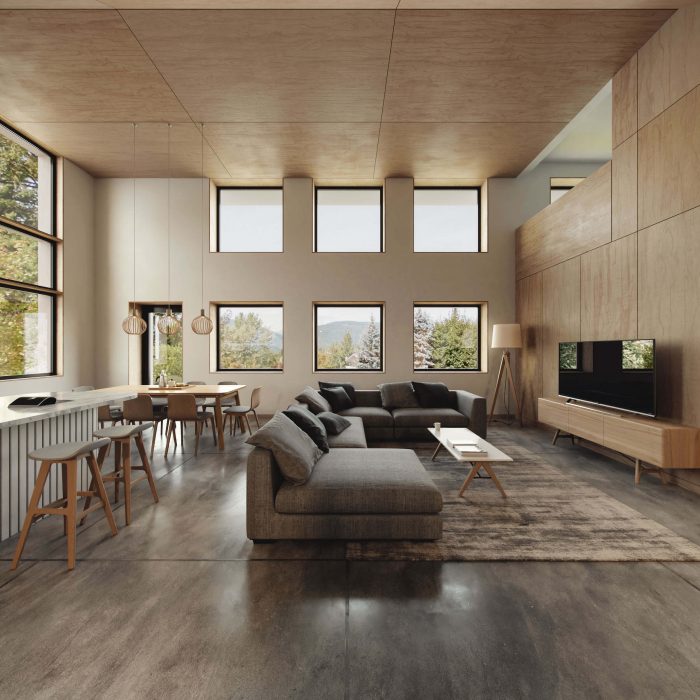 (Click to enlarge)
Can you share any details about the lighting process? Do you use the same setup for the exteriors and interiors?
Lighting is the most important part of making the render look photorealistic. I always put a lot of effort to set up the lighting in my scene. For the interior, I took an HDRI from Google Maps; it's the place where the house is located. I used separate lighting setups for interior and exterior scenes.
Did you use any Add-ons or external tools to create the project?
I used "The Grass Essentials" to make the grass, "Botaniq Tree Library" for external trees and plants.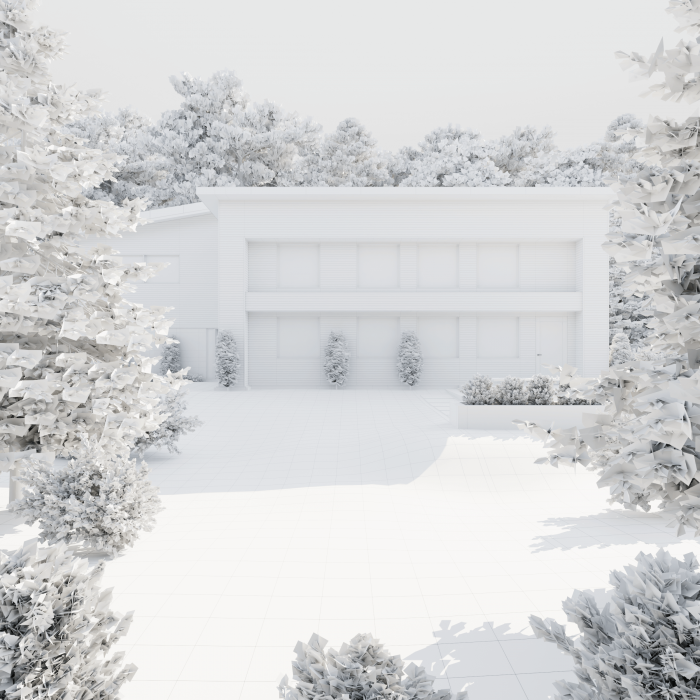 (Click to enlarge)
If you want to share any additional details about the project, feel free to send it!
It was my first exterior project for a long time. I always look at others' renders to see how I can implement one or another thing or technique to my work. Just find a good resource where people post their photorealistic renders, and with time, you will get a great result!
---
Thanks again to Denis Sokolov for sharing details about their work. You can check more projects from him on Behance or Instagram.