Miami home with Blender and the Unreal Engine (Profile)
The project profile series of Blender 3D Architect is a collection of articles aiming for feature projects related to architectural visualization. We invite talented artists to share additional details about each project to demonstrate how they approach each stage. And also allow each author to publicize their work among our readers.# Miami villa with Blender and the Unreal Engine (Profile)
The project profile series of Blender 3D Architect is a collection of articles aiming for feature projects related to architectural visualization. We invite talented artists to share additional details about each project to demonstrate how they approach each stage. And also allow each author to publicize their work among our readers.
How does it work? It is like an interview, where we sent a couple of questions about a project for the artist.
If you want to check previous project profiles, visit this link.
Today we have a project named Miami villa from digital artist Henry Bonamigo, which used Blender and the Unreal Engine to build a real-time visualization from this project.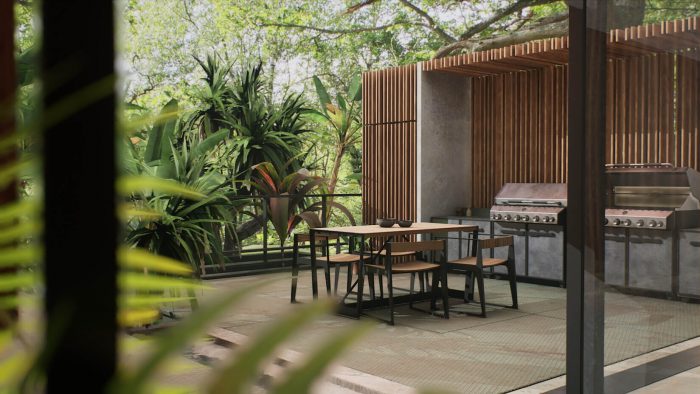 (Click to enlarge)
What is unique about this project? One of the highlights of this project is how the artist used references from videos to create the model. Unlike many projects where we have technical drawings and vector-based images, he only had frames from a video. Even with only visual images, he managed to make some great renders with both Blender and the Unreal Engine.
Let me thank Henry Bonamigo for sharing the details about the project with Blender 3D Architect readers.
---
Was it a commercial project? What can you tell us about the motivation for this project?
It is a personal project created to study Blender and Unreal that I used as a real-time engine. I am following with interest a TV series about architecture on Netlflix "The World's Most Extraordinary Homes," there are incredible housing projects. I liked the episode relating to a Miami villa, the union between raw concrete and wood, and the long swimming pool in the center of it.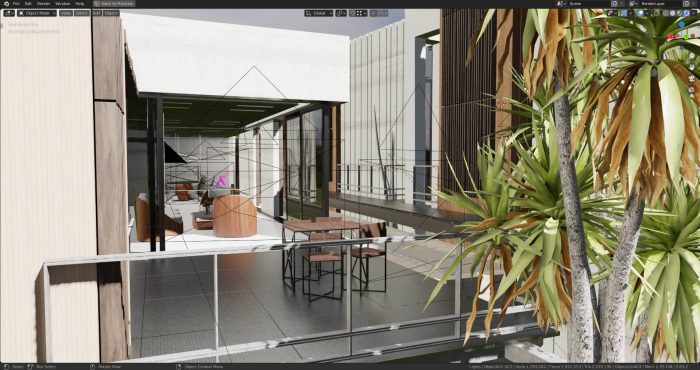 (Click to enlarge)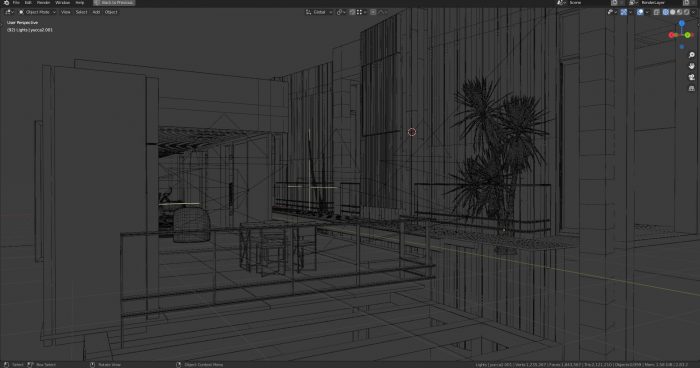 (Click to enlarge)
Did you use any references for modeling, like technical drawings?
As a reference for the modeling, I used the Netflix video, and I did not find the villa's technical drawings. I collected a whole series of frames for modeling (therefore, the reproduction is not entirely faithful, but I didn't need to make it identical).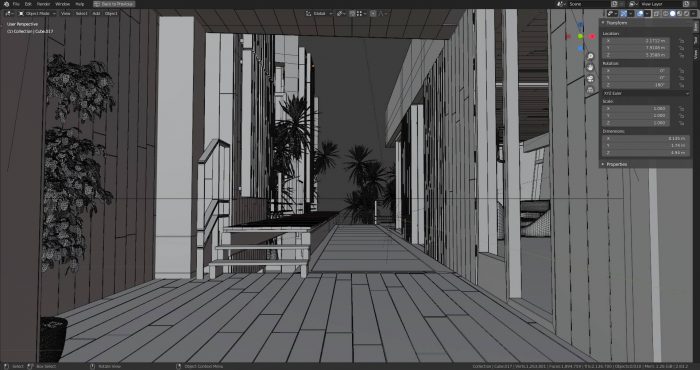 (Click to enlarge)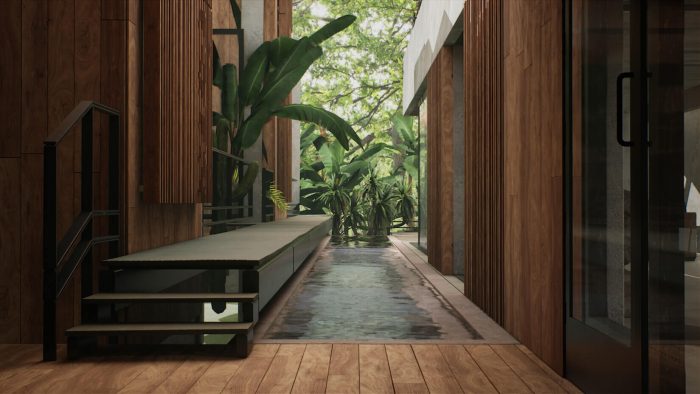 (Click to enlarge)
Did you model everything in the project, including furniture and props?
I modeled all the main structures except the furniture. I used already modeled tables and sofas (downloaded from 3dsky.org), I added the Project Nature plants from the Unreal marketplace. This project's final purpose was not modeling (as you can see, the architecture is still straightforward) but a project to be used in Unreal Engine as a test environment.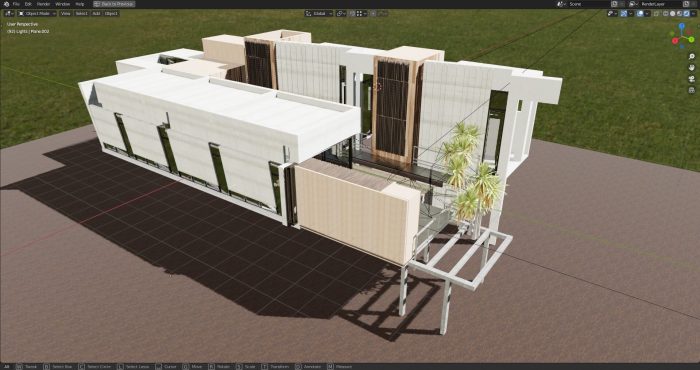 (Click to enlarge)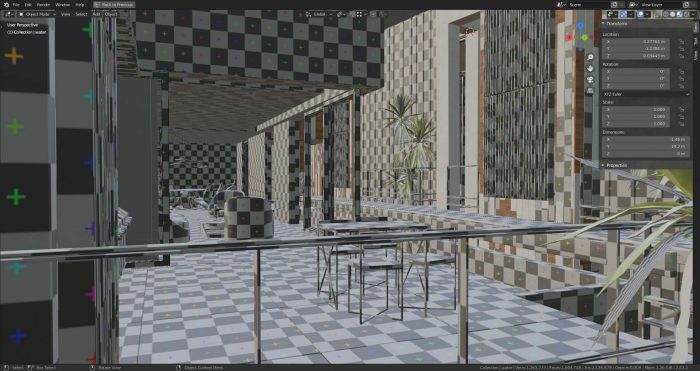 (Click to enlarge)
What can you tell us about the interior design (Layouts, materials, and props)? Did you have to create it yourself?
I tried to replicate the one seen in the video, the main rooms (therefore the large living room and the outdoor patio). The villa certainly has many other rooms that I haven't modeled because I didn't have enough references. For this project, I initially made a render with Blender using Cycles. I created standard materials with the Principled BSDF shader and the classic three maps (diffuse, normal, roughness), some very simple nodes to change the contrast or color of the texture ( I'm not strong with nodes, so I'm always trying to work with simple setups, not thousands of nodes).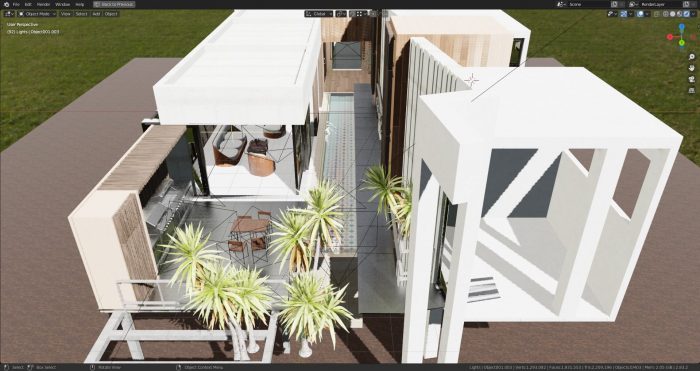 (Click to enlarge)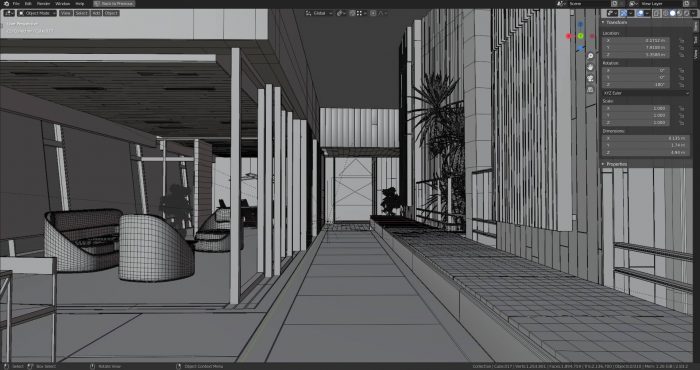 (Click to enlarge)
How long did it take from start to finish?
It took me about three weeks working in the evenings and some weekends.
What hardware did you use to render? Can you share some render times?
The only static render created in Cycles it took me about half an hour for a full HD frame with a GTX 1050Ti (I made the project using my notebook Asus TUF, not bad for simple tasks. I only upgrade the RAM with other 16gb for a total of 32gb)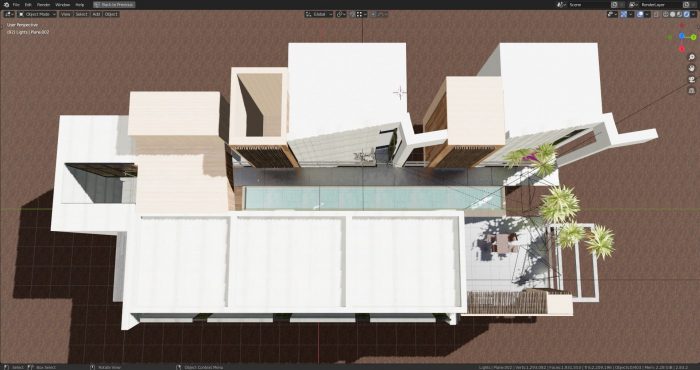 (Click to enlarge)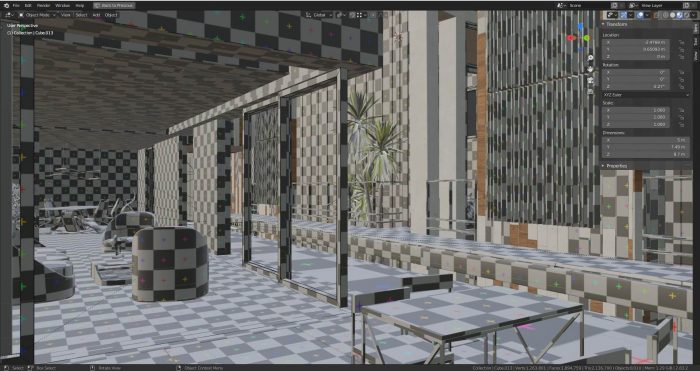 (Click to enlarge)
Can you share any details about the lighting process?
The lighting process of this scene is very simple. I used an HDRI from the usual HDRIhaven site (thanks to Greg Zaal for the super service) and a sunlight (same setup used in Unreal Engine), no area lights portals, or similar.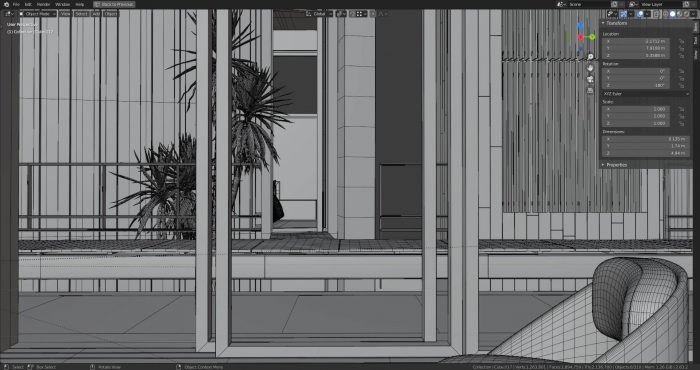 (Click to enlarge)
Did you use any Add-ons or external tools to create the project?
I used the "Floor Generator" addon to create the wooden floors and panels that cover the structure in order to have more natural variations of the boards (size, random rotation), the "Texel Density Checker" addon (by Ivan Vostrikov) so to have all the models of the main structure with the same density as the UVs (convenient later for having all the megascans textures applied with the same scale). Last but not least, the add-on "Blender For Unreal Engine" a very useful addon to export assets to Unreal with a click.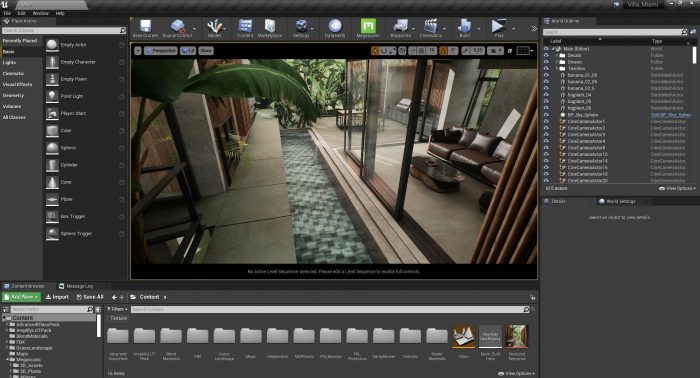 (Click to enlarge)
---
Thanks again to Henry Bonamigo for sharing details about their work. You can check more of his projects in ArtStation.