Free ocean-water simulation tool for the Unreal Engine
For architectural visualization projects using the Unreal Engine, you will find plenty resources for interior scenes. But, for exteriors requiring natural landscapes, you might have a hard time finding useful tools. If your project needs a large water surface like an ocean or lake, you may end up with a flat plane with a water material.
A brand new resource for the Unreal Engine might give you an easy way to add such surfaces in landscape architecture. At the Epic Games forums, a developer called jonathan light announced a free tool for OceanX Simulation. The tool has a clear aim to create and control large water surfaces, but we could also use it to generate lakes and smaller scale scenes.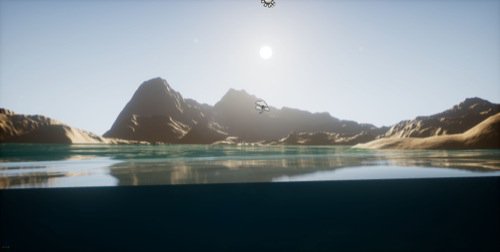 The tool offers a lot of control over the water surface, like the possibility to set animation for waves.At this moment the developer still didn't release the code for the ocean simulator. But, he promises to share it in the Unreal Marketplace (free) and the source on GitHub. There is even a link to the GitHub page, but no code is available yet.
Keep an eye on the forum thread or wait for news of the release here at Blender 3D Architect. We will update and review the tool when the developer makes it available.
Are you interested in using Blender with the Unreal Engine for architectural visualization? Take a look at our course of architectural visualization with Blender and Unreal. You will start to create an interactive visualization using cutting edge game technology.