21 free PBR textures in 4K
The upcoming updates and new features of Blender will make quality textures a crucial asset for realistic architectural visualization. No matter if you use Cycles or Eevee, getting good PBR textures will make a huge difference. We are often pointing to free resources related to PBR textures for architecture, and today we have an update to a collection.
Do you remember the work of digital artist Miloš Belanec? It appeared here at Blender 3D Architect in the past, with several collections of PBR textures. He has an update on his portfolio of free textures with a brand new collection (volume 4).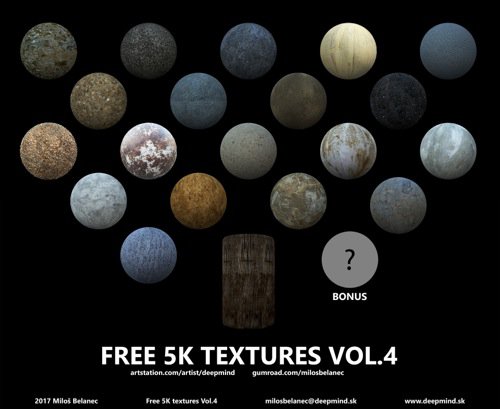 The new collection has a total of 21 free PBR textures that will work perfectly for both Cycles and Eevee. Even with no clear focus on architectural visualization, you still can find some useful textures for that purpose.
For instance, among the surface types you will find:
Wood
Concrete
Dirt
Metal
Sand/Ground
To make the textures even more interesting, they are all at 4096 x 4096 in size.
How to download them for free? You have to visit the link that leads you to gumroad.The artist will ask for a "fair price" to enable the download, but you can set it to zero and download for free. But, if you find that collection useful, it would be nice to donate any value to the artist.