Free low poly plants for Blender and Unreal
As part of the process of updating my course of architectural visualization with Blender and Unreal, I'm looking for assets for my students. Besides the architectural part of the project, you probably will want to add some plants and vegetation. Here is a free low poly plants set I found that will suit both Unreal and Blender.
Even if you choose not to use Unreal for interactive architecture, you can also take those models in the Blender Game Engine. An artist called Nobiax made the collection, and posted that in Deviantart. All models have a very low poly count, and the heaviest is below 1600 triangles.
But wait, it gets even better! Not only the models are available for download but also the textures. The free low poly plants collection has models in both OBJ and FBX formats. Just follow the link and download all files from this free low poly plants.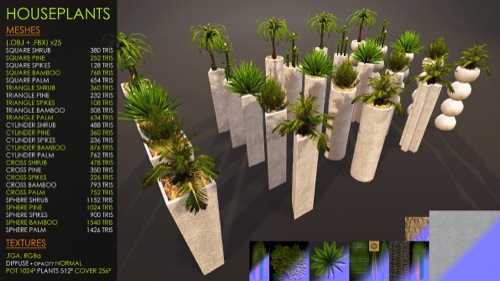 How to get that into Unreal and use for architecture? Since all files are available in OBJ and FBX, you can just import the FBX files. You might need some adjustment to the textures, but nothing too complicated. Just make sure you setup both diffuse maps and normals for better realism.
If you are one of the students from my online course of architectural visualization with Blender and Unreal, I will add this free low poly plants to the resources of the course. It will get added to some other files and materials for Unreal and architecture.
I'm still working to update the lessons for that course, but soon enough all of them available. For those of you, that enrolled, thank you for your support. And if you want to check out the lessons and content just visit the course page.
As a reminder, all students from Blender 3d Architect have lifetime updates at no extra cost.