3D Presentation creator for the Unreal Engine
Using game development technology to present architectural projects is a powerful way to give life to your ideas. An artist can create an interactive visualization that allows a potential customer how their future home or business will look. They can have an immersive walkthrough experience.
What if you don't want to create a traditional walkthrough interactive presentation? Instead, you could show the project using a traditional slide display format. But not using regular slides in a boring powerpoint style. I'm talking about a full 3d real-time display of the project, mixing 3d and text.
A company called Byteparrot offers a free plugin for the Unreal Engine that can create 3D Presentations, using a similar structure of a powerpoint slide presentation.
Not only the plugin is free, but it is also open source. You can take a look at both the code and get the plugin in this GitHub page.
After you install the plugin, you will find a dedicated panel with options to add "slides." Each slide will also have options to edit text-based information like title and sections.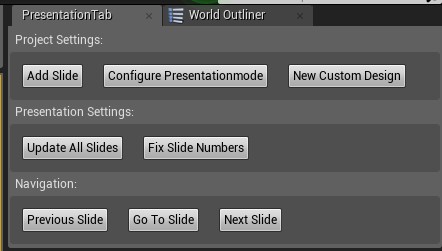 You can add background images and change settings for how a slide appears on the screen. As a result, you will get an impressive real-time visualization of the project, with options to show details about all architectural details.
The format is not new, and I do know a few artists that use a similar technique with the Blender Game Engine. They will bake all light to textures from Cycles, and with that realistic environment they create a series of "slides."
By placing the camera in specific locations and displaying information as text. Export that as a binary and you get yourself a great way to show architectural projects.
As a result, you will get a full 3d presentation and move the camera in real-time.
Such technique will most likely catch the attention of anyone in the room. No matter if you use either the Unreal Engine or the Blender Game Engine.
Do you want more assets related to the Unreal Engine? Don't miss the incredible collection of 148 textures and materials for the Unreal Engine.