Indigo Renderer 2.2 for architectural rendering in Blender 3D
It`s been almost a week so far that I`m using Indigo Renderer to evaluate an important upgrade made to the renderer (version 2.2). This version of Indigo that I`m using to render a few images from architectural projects is the full feature version of Indigo, without the restriction in the resolution and a watermark on the render. So far, I can say that I`m really impressed with the results and the overall speed of the renderer. If you have ever used a renderer such as Indigo, LuxRender, Maxwell Render or other software based on Unbiased render methods, you may know that render speed is a critical factor.
Sometimes a render could take lot`s of hours to get free of all the noise generated in this type of renderer at the early stages of the processing. Just to show you how fast the render can be, I picked one scene I have worked on back when I was studying Blender 3D. It was a modeling exercise, where the objective was to create an industrial kitchen. After a few hours I left the project and last week I found the file and decided to test it with Indigo.
First of all, the model has only the sunlight to add light energy to the scene.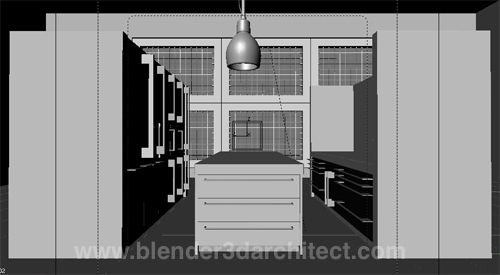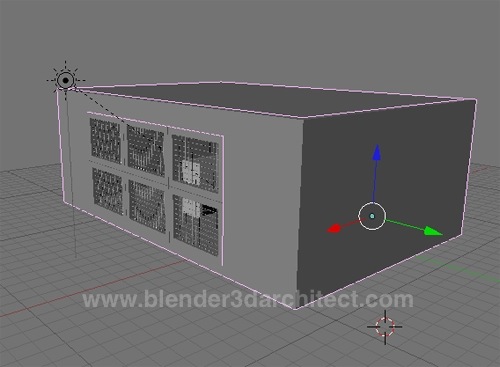 The camera view will show only a few pieces of furniture and a window on the back.
It`s just a render test without objects over the furniture and no textures yet. I left the image rendering for about one hour with a resolution set to 1600×1600.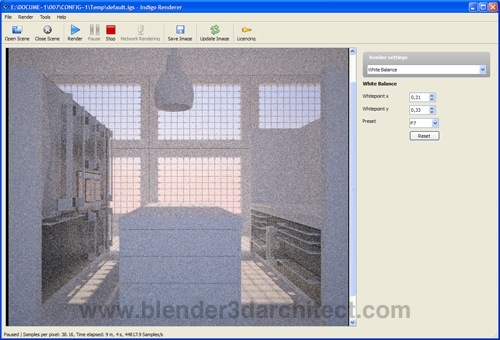 And here is the final result:
I believe that with another thirty minutes, the image would have a lot less noise. In the next weeks I plan to add textures and objects to this scene and post the results here, and continue to evaluate the performance of Indigo as an option to render scenes for architecture.
The render speed is great, but there are a few things that could be improved for Blender 3D users. The script that export scenes from Blender to Indigo doesn`t allow us to have much control over materials and there are no options to pick presets. I can say that presets are an important feature for architects, because in all my classes, no matter what software is in use people always focus only on presets to setup a render. It`s like that with 3ds Max and Mental Ray or Blender 3D and LuxRender.
In terms of speed, Indigo is faster than LuxRender but the options and integration of LuxBlend are better than Blendigo. We have control over materials, presets and a lot more aspects of the project. This is the only downside I found from the integration between Indigo and Blender. But, I already saw that Blendigo will be reformulated and a new version will appear in October.
From this day on, I will include tutorials and articles about Indigo Renderer in the blog more often. Of course, I will add it to the roll of subjects including tutorials on YafaRay and LuxRender as well. For architects using SketchUp Indigo is a great option too, because it has a plugin that allows the rendering directly from SketchUp to Indigo.
The bottom line is that, if you want physical accuracy in your renderings for architecture with short render times, Indigo is a great option for Blender 3D artists. If you want to test it, there is a free version that has all the features from the full feature Indigo, with only a limitation on the render size to 0.7 megapixels and a watermark on the lower right corner of the render.