158k free IES profiles for interior rendering with Cycles
When you have a project requiring to show a scene in a bright daylight setup, it will be possible to solve all of the illuminations with Blender's internal lamps. In those cases, you can easily add a background and a Sun for great results regarding lighting. If your project demands an evening render, you might want to use other types of solutions that can mimic artificial lights' behavior.
Those types of projects can benefit a lot from a particular kind of light profile called IES. An IES profile is a plain text file that holds information on how a certain lamp emits light. It is a common resource for lamp manufacturers to offer a way to simulate how their products interact with a scene in 3D.
A couple of months ago, we shared an incredible resource called IES Library that had, at the time, about 75k profiles available.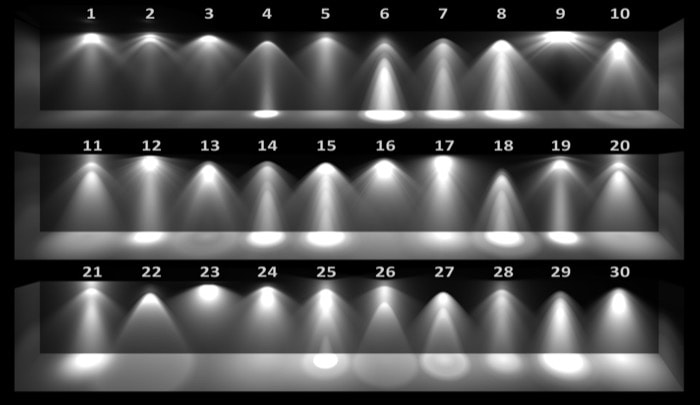 In about two months, the site almost doubles the available profiles and is close to 160k files. You can search and download them for free.
The responsible for this project is Juergen Furrer.
Can you use IES Profiles in Blender? Sure, you can add them to a lamp using Nodes. Here is the procedure:
Open the Shader Editor with the light selected
Press SHIFT+A and from the Textures group add an IES Texture Node
Connect the Fac from the IES Texture to the Emission Strength socket
At the IES Texture press the External option and locate your IES file with the small folder icon
Once you attach the IES profile to light in Blender, it will emit energy based on the pattern set by the profile. That is a powerful way to create a realistic representation of how your artificial lights behave in a project.
Using Blender for architecture
Do you want to use Blender for architecture or render your projects using Cycles or Eevee? We have three books available that could help you!
They cover the use of Blender for producing architectural content and also all information you need to render projects in real-time:
You can get them in both digital and paperback formats. By ordering those books, you will not only improve your skills with Blender for architecture but also support Blender 3D Architect.