Using CAD blocks in Blender: New lesson
The use of Blender for architectural visualization can go much further than only creating realistic images. You can also use the NPR capabilities of FreeStyle to create architectural documentation, like a floor plan and section cuts.
It may sound strange at first, but once you get the technique, it becomes incredibly easy and fast to craft technical documentation. Using the same base structure, you can create both technical drawings and later build 3d models and render with Cycles.
We even have a fully online course showing how to create those technical drawings, including a template with all settings necessary to quickstart drawing.
Today that same course received a new lesson, showing how you can use CAD blocks in DWG to add context and scale to your drawings.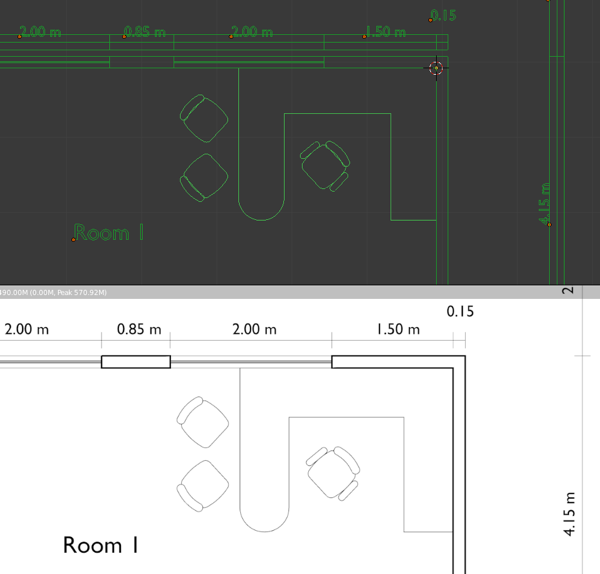 Using CAD blocks is something everyone using tools like AutoCAD, Draftsight, and others are familiar. You draw the architectural elements and place furniture objects to help with the context.
In lesson 8, you will learn how to get files in DWG and convert them to use in Blender. Once they are in the proper format, which is DXF, you still have to edit and prepare each block for rendering.
Those type of drawing elements usually has loosened parts and topology problems. After fixing the CAD block, you still have to prepare it to render using the template.
By the end of the process, you will have a way to add furniture models in 2d to your drawings, and better technical documentation for architecture.
The lesson is a free update to everyone enrolled in the course.
If you also want to learn how to create architectural models with Blender, we have two courses related to architectural modeling. One of them even shows how to add parametrical controls to any model in Blender:
Are you still starting to use Blender? There is also the Blender Basics for architecture, which is free.