Free architectural scenes for Blender (update)
For artists trying to create their first projects using Blender, the setup process of a scene can become challenging. Once you have the scene modeled and with all assets and materials, finding the best rendering settings could take a while. Would it be great to have a scene to use as a "template" or a learning resource?
Last week we posted a small collection of scenes shared by digital artist Filipe Lima Botelho at the Blenderartists forums. Since that is a great resource for architectural visualization artists using Blender, we contacted the author and asked him if we could host those files here in Blender 3D Architect. He agreed to let us host the files and clarified an important aspect of those assets, which is the license.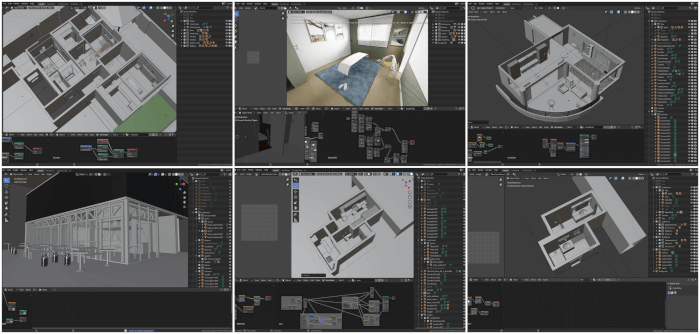 What is the license? The artist made it clear that all files have a creative commons zero licenses, meaning they are in the public domain.
We are glad to announce you can get the scenes from a new page here in Blender 3D Architect called Free Scenes. The link is open to all visitors from the site and offers a direct download to all files.
Notice that to make those files available in creative commons zero, the artist removed all assets and content protected with a copyright. That means it might have missing textures or furniture models. But all render settings are there with no changes.
Speaking of renders, you will find versions of the scenes for the following renders:
Cycles
Eevee
E-Cycles
Octane
The availability of each render depends on the scene. Some of them have only one renderer settings available, and others feature three.
Now you can download the scene files straight from Blender 3D Architect and take a look at the settings to render each project.
We get a lot of messages from teachers working with architecture students, which might benefit a lot from such a resource. If you want to give them a starting point to try Blender for architecture, pointing any one of those scenes is a great way to begin dealing with Cycles and Eevee.