Glossy reflections for laminate wood floors in YafaRay for interior design
One of the parts of the creation of any project related with interior design that demands some considerabel amount of time to setup is the materials settings. A very common type of material used to represent the floor, is the laminate wood floor. This is a material that generates a few reflections, not strong reflections, but a kind of blurred image reflected on the surface. The challenge in YafaRay is to find out the best settings to represent the wood material, according to the real material used in the project. If you are learning to use YafaRay and want to use this feature to create such types of materials, I decided to create a simple study of laminate wood floor to use in interior design renderings.
The scene used in the study is quite simple and have only the main walls of the model and a floor surface. For this example, we will be using a Glossy material that has the following parameters: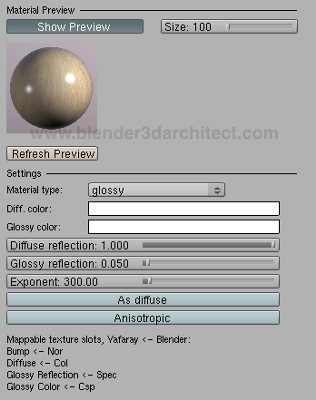 Diffuse Color
Glossy Color
Diffuse Reflection
Glossy Reflection
Exponent
For this tutorial we will be using only the Glossy Reflection and the Exponent. Since the material uses a texture, we will focus on these two settings to determine how the reflections will look like. Here are the five render tests I did with small changes in the Exponent and the Glossy Reflections: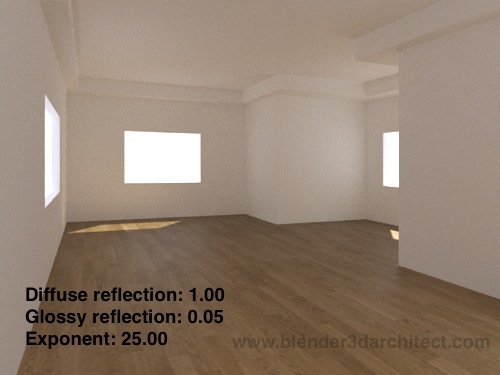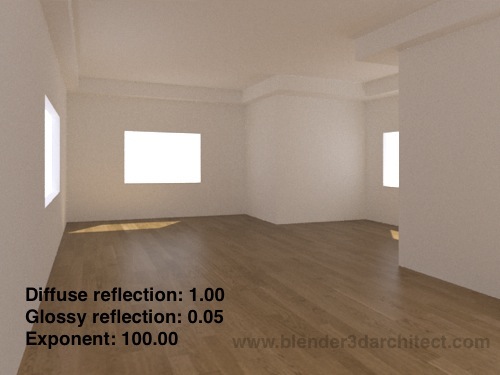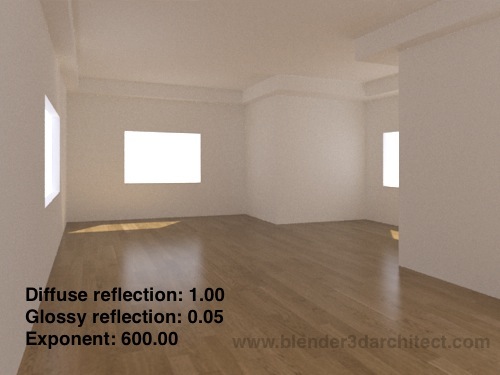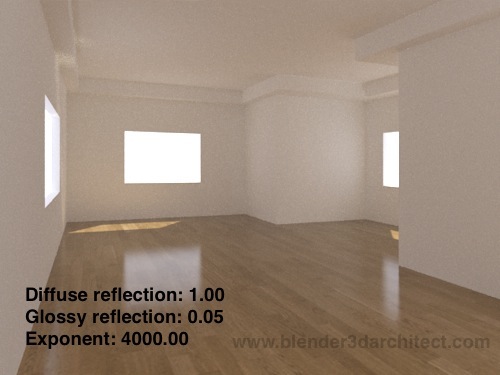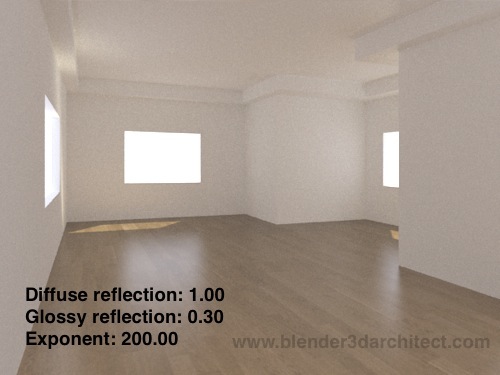 From all those images we can notice how the Exponent parameter controls the blurring of the reflection. With the Glossy reflection we can set the strength of the reflection.
There is an interesting effect caused be the increase of the Glossy reflection in the scene, which is the addition of noise to the image. Every time I tried to increase the Glossy reflection of the material, to get a noise free image you will have to tweak the render settings with more photons or increase the Final Gather.
This was only an experiment to show a few examples of a laminate wood floor with the YafaRay Glossy material. For architectural visualization, I recommend you to concentrate on the Exponent parameter to control the blur of the reflections. This should be enough to set a good wood material for the floor.
If you want to know more about the materials settings in YafaRay, it's always a good idea to visit materials area of the YafaRay documentation.