Free furniture library compatible with Blender
Finding a huge furniture library to use in architectural visualization projects may become an invaluable source of assets, or at some cases frustration. A common characteristic of those libraries is to offer files on formats like MAX, RTA, GSM, DWG, and others that we can't easily import in Blender.
If you need one of those files, you will have to eventually use "middleware" to convert furniture files to a more friendly format like OBJ.
But, some of those online libraries will also offer options that we can import to Blender using the right resources!
Take a look on a Swedish website called BIMObject, which provides an incredible amount of furniture models for download. They have an extensive collection, requiring you to register to download any furniture files.
When you open the page of any furniture object, you will find the list of available formats. The usual formats are there like DWG, RTA and more. But, among them, you will notice two of them that work with Blender using an Add-on.
A great choice is the SKP format from SketchUp, using the Add-on we already described in the past, you can successfully import those files to Blender.
Here is an example of a chair from their library, which you wouldn't be able to import at first. But, using the Add-on makes everything much easier!
Do you want to see an example? We took a chair model and using the SKP file imported that to Blender. You will have to look for potential topology problems and deal with messy normals. But, it works!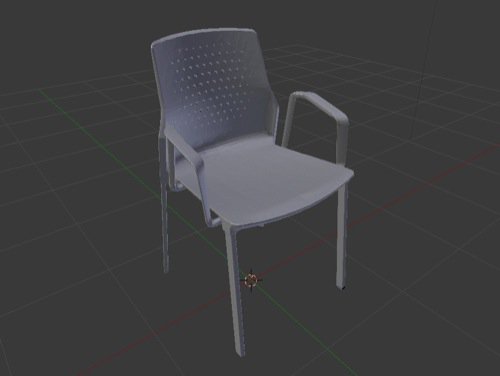 Apparently, the website catalog is from furniture manufacturers from Sweden, but some of them could also help on a project. If you have plans to lay out a project in Blender, having furniture models in scale for evaluation is a great help. They might not fit a realistic project, but you can also use them to develop your models further. Just take them as a reference.
Do you want to start creating 3d models to use in architecture for Blender? Take a look at our training related to modeling, which will not only help you with traditional modeling but add parametric controls to common architectural elements: