Mind map about 3d modeling for a lecture or presentation
From my previous posts on the blog, where I always mention my experiences on the classroom, you may be aware that besides my work with architectural visualization I also teach. I do teach Blender classes, but also work on classes about general computer graphics and multimedia design. For all those classes I use the same technique to plan and organize my speech. Since I know that lots of artists have to, at some point, make a presentation or lecture about a technique or tool, and I found it really hard to set the right sequence on my first times, I will share an image that might help anyone willing to give a presentation about 3d modeling.
I use a technique very simple, yet powerful to organize my thoughts and subjects of my lecture called mind maps. It`s a simple image that connects a series of keywords and images. Here is my mind map for general 3d modeling, for a computer graphics class.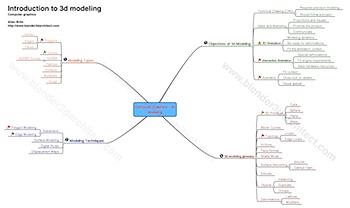 Click on the image to see it bigger.
As you can see from the mind map, I start with a brief presentation about some of the modeling types available. Along with the topics I mark the most important subjects with small icons and flags, to expand a bit more the subject during the lecture. Of course, along the presentation I show to the students a lot of images and videos to demonstrate the techniques.
This is for a general 3d modeling lecture, and for other classes like one about architectural visualization modeling I work with minor changes, like the replacement of sculpt modeling to CAD support or other specific subjects. It will all depend on the main objective of the course and interest of the audience. At the end of the class, I add a few key terms for 3d artists that they should know in a quick glossary.
The original mind map was created in Portuguese for the class, and I translate the structure to post here on the blog. I hope you can find it useful and guide you through a presentation or lecture about 3d modeling. With time, I will post other mind maps about computer graphics.