Blender 2.8 for architecture updates (October)
As you probably know, if you are following Blender 3D Architect for the past few weeks, we started to publish a series of new books related to Blender 2.8 that is part of a new segment from the site. The books use up to date versions of Blender, and we are receiving some great feedback from readers.
You can see an updated list of releases on our books page. Or you can go straight to the details page of each book:
They are available in both eBook and Paperback formats.
If you are among the hundreds of people that bought one of the books, thank you! And we need your help!
Despite having a lot of books shipped and downloaded in digital format, we still have only two reviews or ratings from readers.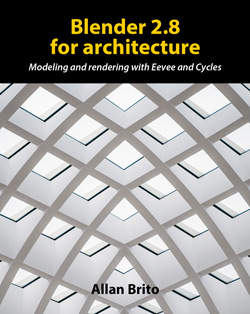 One reader from Spain gave Blender 2.8 for architecture, a five-star rating.
Another rating came from a reader in Japan that gave our Blender 2.8: The beginner's guide a one-star rating. At first, I was worried that he found something terribly wrong with the book content.
After reading the comment about the book, I found out the reason for the one-star rating. He was having some trouble downloading the eBook version and decided to give it a low rating — no word about the content.
The help we need from everyone that bought one of the books is simple. We need reviews and ratings. You don't have to write a long review. A simple rating will help a lot.
In the details page of each book, you will find links to the Amazon stores where the book is available.
Some readers already reached us by email with comments and questions, and most of them have positive feedback.
Can you help us? It only takes a minute to add some ratings or a couple to write a small review.
Future releases and updates
Based on the support we are having from the books, we are working on some great content related to Blender and architecture. Not only Blender but also some other open-source tools that we believe can help a lot in an architectural visualization workflow.
We are just getting started!