Blender 2.8 and parametrical modeling
Do you want to start working with parametrial modeling in Blender 2.8? We are proud to announce a new book from Blender 3D Architect, which is Blender 2.8 parametric modeling: Drivers, Custom Properties, and Shape Keys for 3D modeling.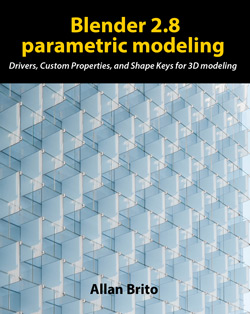 The book teaches you how to add parametrical controls to objects in Blender using a collection of tools such as:
Drivers
Shape Keys
Hooks
Custom Properties
Expressions
For instance, you will be able to add controls to a staircase to automatically add or remove steps and also control aspects of the model like width and height. Here is a video showing an example from the book:
You can also add controls to furniture models and architectural elements like walls, windows, and doors. Another example from the book shows a chair model:
The book is currently available in digital format and soon will also have a paperback, which is under review.
To find more about the book like chapters and a detailed description of the content, you can visit the details page.
That is a great complementary material for anyone looking to expand their skills with 3D modeling and Blender 2.8.
By purchasing any of our books, you are supporting Blender 3D Architect. If you already bought one of our books, thank you!
Other Blender books
Do you want to expand your knowledge about Blender 2.8? You should take a look at our other titles related to Blender 2.8: