The living room project in Cycles
In architectural visualization, you will often find projects that must materialize an idea that someone else had about a particular space. You might work with an architect or designer that doesn't know anything about 3D modeling and rendering and need you to create marketing materials and sell the project idea.
Another scenario is to create an architectural visualization for your needs. Have you ever had a request from someone in your family to create the visualization for a possible house renovation? Here is an example of a project that came as the result of a personal project from a 3D artist that decided to simulate a renewal for his living room.
The living room project is a design from German artist Christoph Werner, and he shares some beautiful renders made with Cycles at the BlenderArtists forums. Besides being a great example or artwork using architectural visualization as subject, you will also find some very useful information in the post.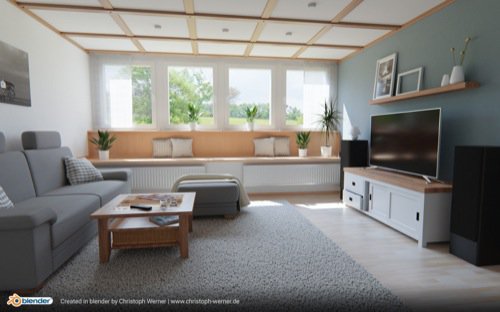 One of the first aspects of the project that will catch your attention is the hardware used to render the images. According to the artist, the primary GPU used to render all images is a GeForce GTX 1080Ti. That is one of the most potent options to render with Cycles in the market. Even with a robust GPU like the 1080Ti, each image took about 4 hours to render.
If you follow the description from the artist, you will also find some handy information, about the set up used to render the scene. The artist shares a screenshot with all settings related to light placement and Cycles.
He uses filmic and a very familiar setup for lights, at least for artists with experience with interior lighting. For instance, each window has an Area Lamp with the same size of each opening.