Blender and Cycles for architecture: Loft
When you must start a project that will show only a particular angle of a room, do you create the full ambient? The best approach in situations like this is to place the camera and work only on what will appear. In the context of Blender and Cycles for architecture.
Is there anything important that won't be in front of the camera? Either you move the camera or leave the subject out of the render. It may sound weird, but a small and optimized scene will translate into a much faster performance for render. In the end, you will show your architectural project and get a shorter amount of time working.
Do you want to check out an example of something that will look strange from the screenshots? But, ends up being a great use of Blender and Cycles for architecture? Look at this Loft render from Jose Manuel posted at the Blenderartists forums.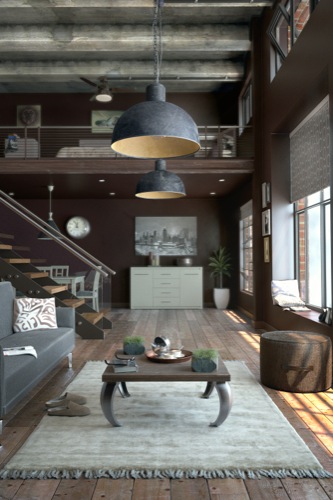 The final result of the project is a beautiful image with a well-resolved light setup, textures, and project. And guess what? The artist was kind enough to share some screenshots from the light setup. Not only lights, but you will also find the setup for post-processing in Photoshop.
By carefully looking at the scene you will notice that not all parts of the project exist. And from a project I mean architecture. A common mistake made by artists starting with visualization is to get a full project in 3D, only to show a single room.
Even if you have some experience already, a visit to the Blenderartists forums will give you some insights about lights and project setup. From the artist standpoint, information like this is incredible, because you can compare your work with other people. Do they have a better solution? Setup? Can you apply any of that to improve your architectural renders in Blender?