The Mill House: External visualization with Blender and Cycles
If you are trying to get into the architectural visualization business you will have to work on a portfolio to show your skills to all potential clients, and having any kind of experience in architecture or design is a great help. However, it is also possible to borrow some designs to practice and work on a visualization project following an existing design.
That was exactly what digital artist Tomáš Luža made with "The Mill House" developed with Blender 2.8 and rendered in Cycles. It has an impressive render quality and level of detail for an exterior visualization.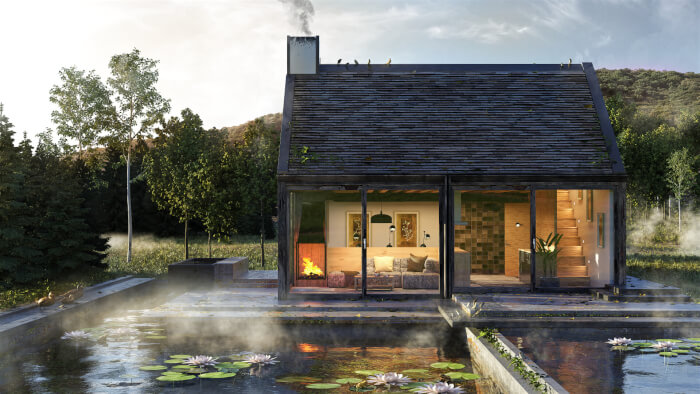 The artist was kind enough to share a lot of details regarding project development. You will find a detailed list in the Blenderartists thread. Here are a few highlights:
The main design for the house is from Swedish company Wingårdh
The render used only Cycles in CPU mode
For that scene, he used 1000 samples to get a 4K render. He didn't share the render time, but we can assume by the image that it was quite long.
Most of the textures came from CC0Textures (We often list the best textures they have for architecture)
A lot of the external models are from a personal asset library of the artist
That is an incredible example of architectural visualization that overlaps with an artistic concept of a project. Would that work as a marketing tool to sell the project? Maybe from different angles and a few tweaks, but it is nonetheless a great architectural render made with Blender.
The artist made a timelapse animation showing the development of that visualization.
By the way, you will find more information about the existing project "The Mill House" here. Notice from the exterior photos that Tomáš Luža made quite a few changes to the exterior.
Using Blender for architecture
Do you want to use Blender for architecture or render your projects using Cycles or Eevee? We have three books available that could help you!
They cover the use of Blender for producing architectural content and also all information you need to render projects in real-time:
You can get them in both digital and paperback formats. By ordering those books, you will not only improve your skills with Blender for architecture but also support Blender 3D Architect.