Small apartment interior with E-Cycles (Profile)
The project profile series of Blender 3D Architect is a collection of articles with the aim of feature projects related to architectural visualization. We invite talented artists to share additional details about each project to demonstrate how they approach each stage of the process. And also allow each author to publicize their work among our readers.
How does it work? It is like an interview, where we sent a couple of questions about a project for the artist.
If you want to check previous project profiles, visit this link.
Today we have a Small apartment interior from artist
Andri Iskandar, which uses E-Cycles to render a compact size apartment. The project features a clean and modern look design for a small-sized apartment in Jakarta, Indonesia.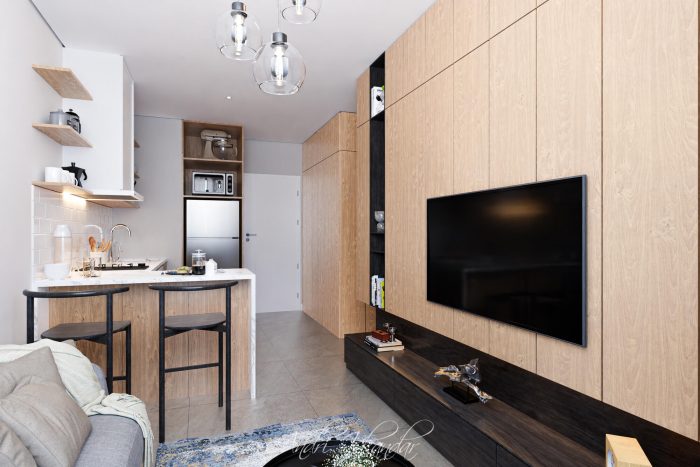 (Click to enlarge)
What is unique about this project? One of the challenges in such a project is the narrow spaces to place a camera in architectural visualization. An artist will have to use settings to emulate a wide lens camera to frame some key parts of each scene. Based on the images in this project, you can see that Andri Iskandar did a great job with camera handling in such compact spaces. Not to mention the beautiful renders.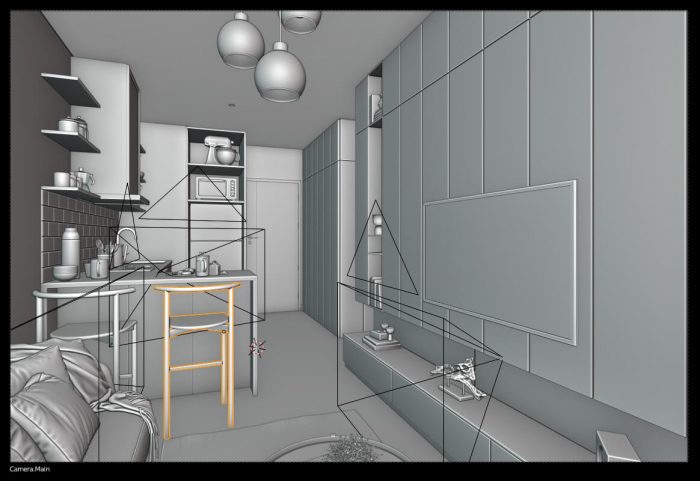 (Click to enlarge)
Let me thank Andri Iskandar for sharing the details about the project with Blender 3D Architect readers.
---
Was it a commercial project? What can you tell us about the motivation for this project?
It was a commercial design project belong to a friend of mine, Klara Teresya. She is a very talented designer. When she shared the project images on Facebook, I called her if I can do my own version of the render of this project, and she agreed.
The main reason to do this is that I liked the design. She managed to create a very good interior in a compact space, and I wanted to have it in my rendering portfolio.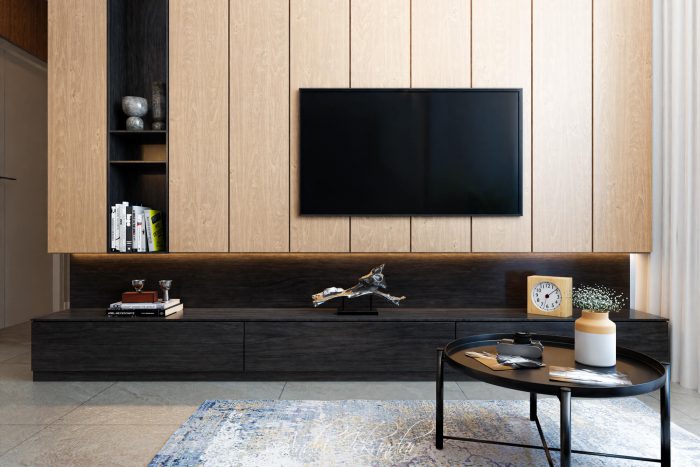 (Click to enlarge)
Did you use any references for modeling, like technical drawings?
No technical drawing references supplied, only a SketchUp model and some renderings done by the designer, also small brief about the project.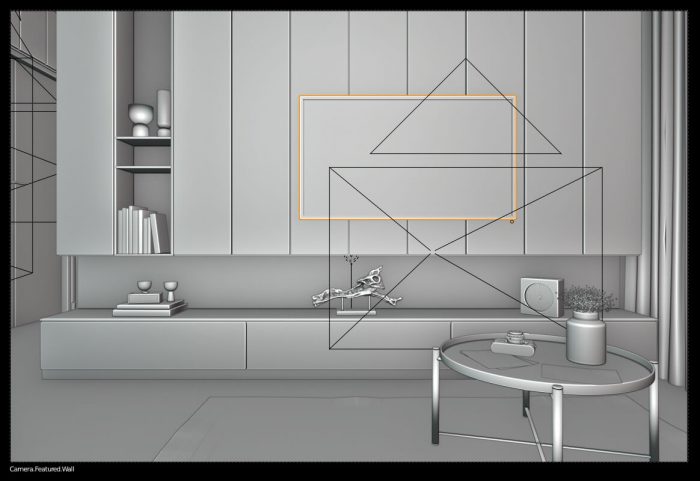 (Click to enlarge)
Did you model everything in the project, including furniture and props?
After I got the SketchUp file, I remodeled almost everything in Blender, including the furniture & props. I replaced some of them with my assets.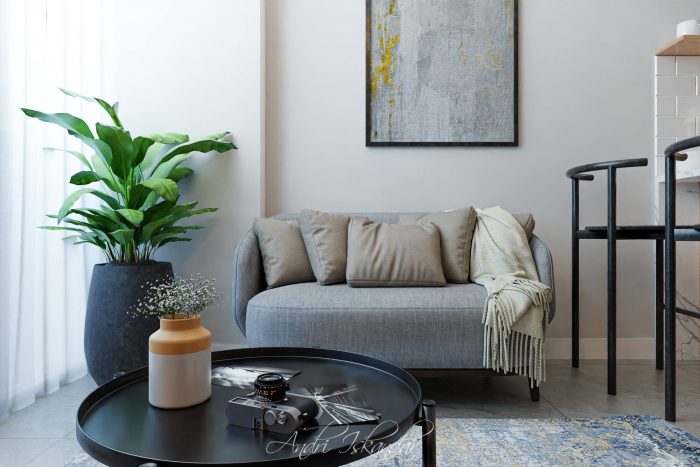 (Click to enlarge)
What can you tell us about the interior design (Layouts, materials, and props)? Did you have to create it yourself?
I replaced the materials with better quality textures, mostly from Poliigon and CC0textures. I kept the layout as it was, then I replaced some of the furniture and added some extra features like a wooden wall next to the entrance door. I created some of the assets. The rest were from Blender Market (3d shaker) and 3DSky.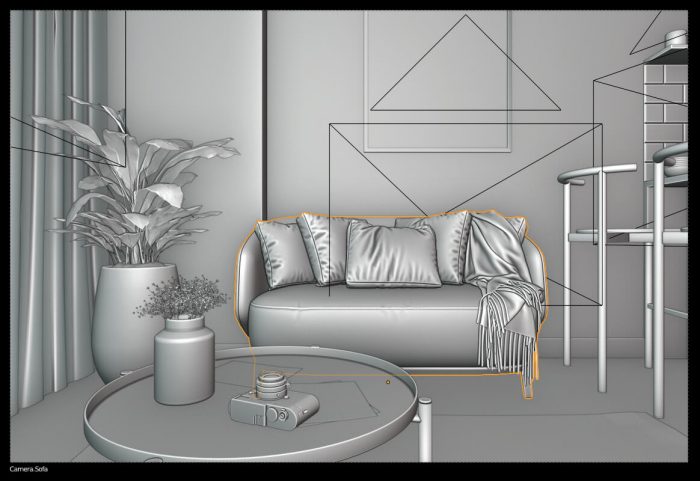 (Click to enlarge)
How long did it take from start to finish?
The whole process took three days from remodeling to final render. The remodeling process was very fast, only a couple of hours. I spent most of the time to get the materials and lighting that I wanted.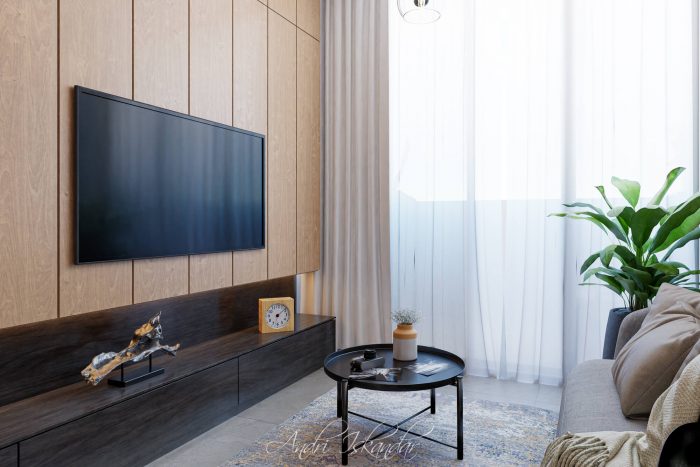 (Click to enlarge)
What hardware did you use to render? Can you share some render times?
I used an i7 5820K, 32 Gb ram, GTX 1060 6Gb & GTX 1080 for this project. Render time was about 30–45 minutes each, 4000 x 3000 pixels, 1000 samples rendered in E-cycles.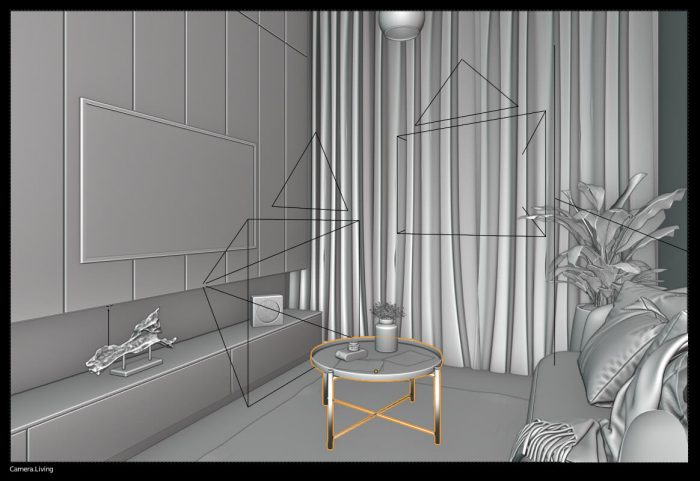 (Click to enlarge)
Can you share any details about the lighting process?
The lighting was very simple. At first, I was planning to use HDRI, but for a small space like this, I thought that would be too much. So I used emission for the environment with 6000K blackbody (settings). I also used emission materials for indoor lights.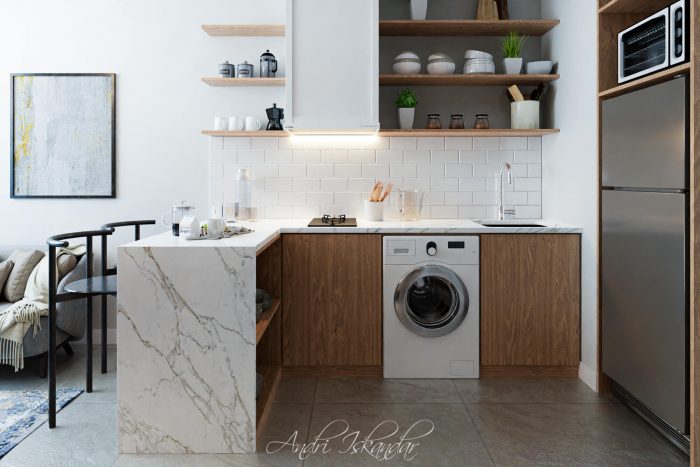 (Click to enlarge)
Did you use any Add-ons or external tools to create the project?
I used SketchUp Importer, Photographer (settings), Poliigon Material Converter, Chocofur Asset Manager, and Asset Management. I always use those add-ons for all my projects to speed up my workflow.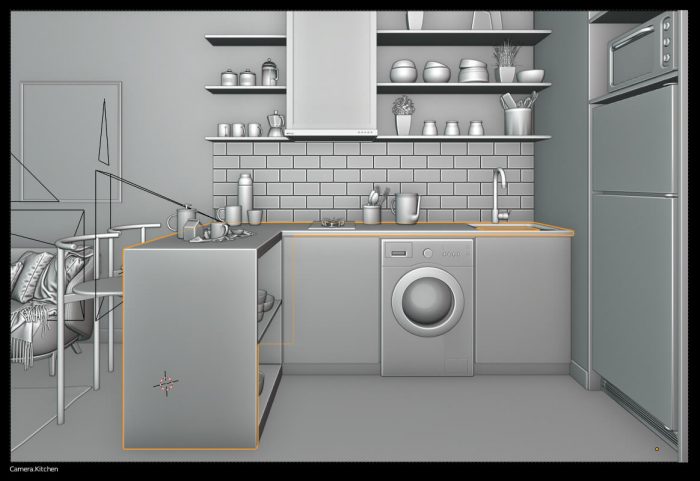 (Click to enlarge)
---
Thanks again to Andri Iskandar for sharing details about his work. You can find more about his projects by visiting his online portfolio at either ArtStation or Behance.
Disclaimer: Some of the links above might be affiliate links, meaning, at no cost to you, we earn a commission if you click through and make a purchase. If you decide to purchase using our links, you will be helping us with the maintenance of Blender 3D Architect. Thank you for your support!