Residence 54 interiors with Blender Cycles (Profile)
The project profile series of Blender 3D Architect is a collection of articles aiming for feature projects related to architectural visualization. We invite talented artists to share additional details about each project to demonstrate how they approach each stage. And also allow each author to publicize their work among our readers.
How does it work? It is like an interview, where we sent a couple of questions about a project for the artist.
If you want to check previous project profiles, visit this link.
Today we have a project called Residence 54 by TOL'KO Interiors, which used Blender Cycles to render a residential project located in Doha, Qatar.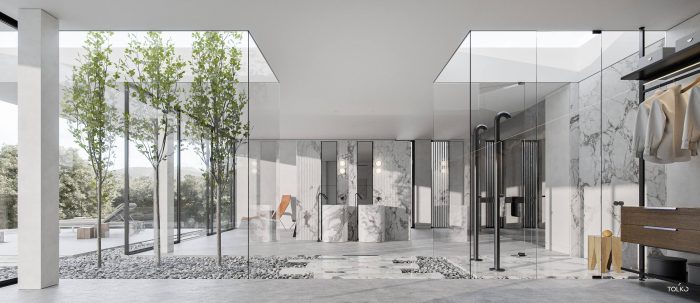 (Click to enlarge)
What is unique about this project? The project features a beautiful set of renders to show an architectural design that considers the environmental aspects of the site. In that case, a place that has high-temperatures and desert-like weather.
The studio usually renders their projects in Corona Render and 3ds Max and decided to try Blender and Cycles for this particular project. Another aspect of the project that will catch your attention is the total area with about 600 m²/ 6400 ft².
Let me thank Denis and Nikolay from TOLKO Interiors for sharing the details about the project with Blender 3D Architect readers.
---
Was it a commercial project? What can you tell us about the motivation for this project?
RESIDENCE 54 is a commercial project located in Doha, Qatar. There are specific climate conditions like the desert, sun, and high temperatures requiring special attention. When we were designing the residence, we referred to it. We chose an open space layout with panoramic windows to the gardens. Most residents have their gardens in private areas. The garden makes the environment around the house more colorful, alive and relieves the space from the sun, so we used monochrome, light, cold gamma in the interior as the contrast between outside and inside spaces.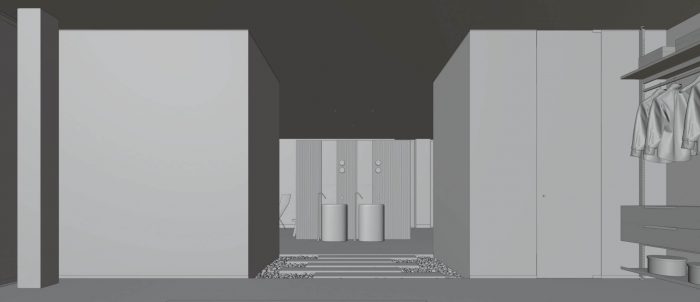 (Click to enlarge)
Did you use any references for modeling, like technical drawings?
The main reference for 3D visualization was a concept created in SketchUp. You can check the concept in this link.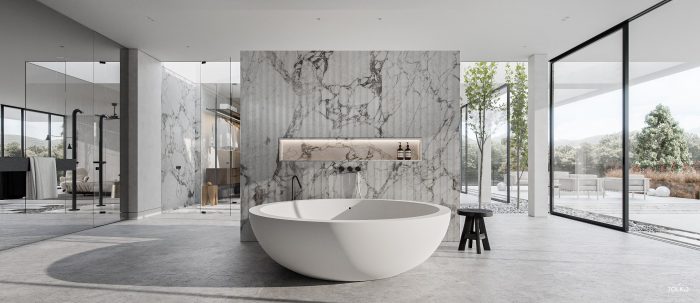 (Click to enlarge)
Did you model everything in the project, including furniture and props?
We modeled the entire interior, environment, assets for bathroom/shower, ceiling fan, decorative stones, and lounge armchair near the bathtub. The bed, armchair with ottoman, wardrobe, outdoor furniture, and decorative assets were imported from external sources. All materials and textures were updated by us to adapt them to Blender shaders.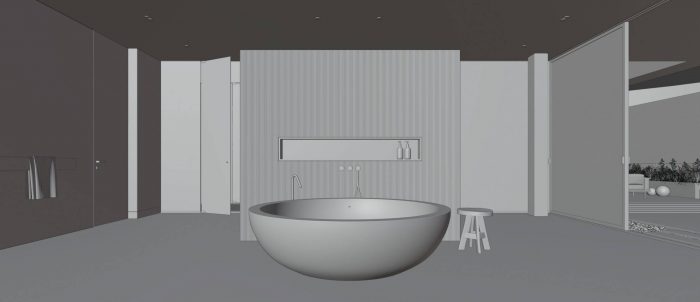 (Click to enlarge)
What hardware did you use to render? Can you share some render times?
The workstation configuration: AMD Ryzen 9 3900x, NVIDIA RTX 2080Ti and 64GB RAM.

In Blender, we use OptiX for Cycles. We spent 2.5 hours per frame in 4K resolution, with 2 or 3 RTX 2080Ti the render could be much faster, maybe less than 1 hour per frame.

(Click to enlarge)
Can you share any details about the lighting process?
For the lightning, we used a simple environment map with white color + sun and portals. One HDRI map used only for reflection, refraction, and camera paths rays. We think that this solution is the best for a balance between quality and render times.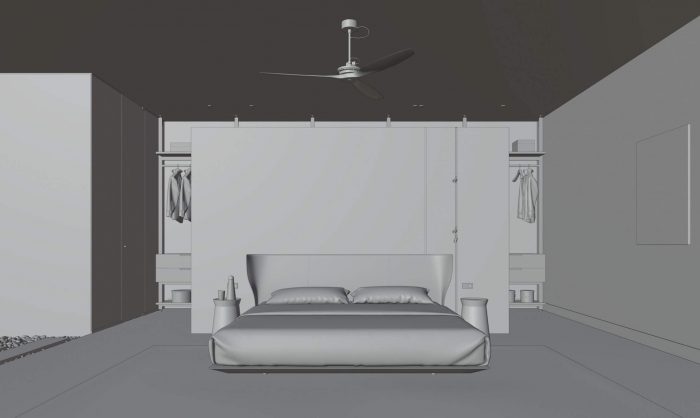 (Click to enlarge)
Did you use any Add-ons or external tools to create the project?
We used Grove 8 Addon for growing trees and Grasswald Addon for creating grass in the terrace.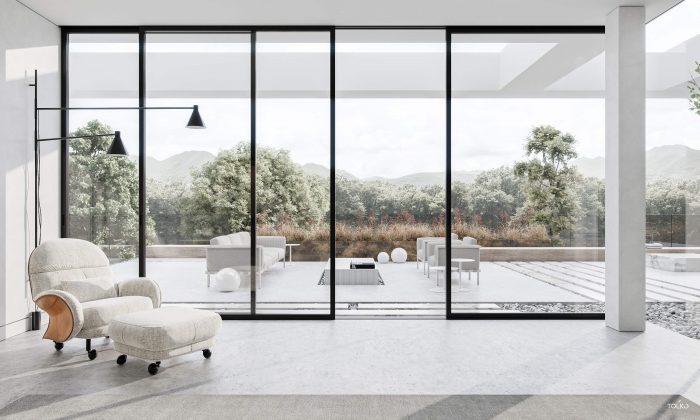 (Click to enlarge)
How was the experience of using Blender for rendering an interior?
It was our first experience in Blender for interior visualization. One of our biggest problems is with the material conversion from assets saved in other platforms. Blender has a great potential for interiors!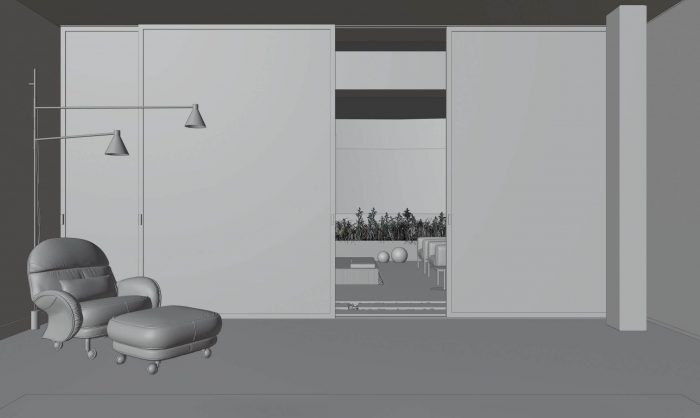 (Click to enlarge)
---
Thanks again to Denis and Nikolay from TOL'KO Interiors for sharing details about their work. You can check more projects from them at their studio website, and follow them on Behance and Instagram.